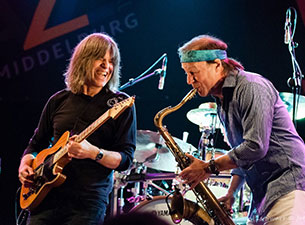 Iridium Jazz Club
Mike Stern

and

Bill Evans


Band featuring

Tom Kennedy

and

Dennis Chambers

Friday, Jun 13, 2014 10:30 PM EDT
Iridium, New York, NY

Purchase Tickets
Pre-sale tickets are no longer available for this event. Tickets will be available at the door, or contact our box office at 212-582-2121 for further information.
Additional Information
Mike Stern & Bill Evans Band, feat. Tom Kennedy & Dennis Chambers

MIKE STERN — Since his days with Blood Sweat & Tears in the mid-1970s, followed by stints with Billy Cobham and Miles Davis' band in the '80s, and a solo career that now spans more than 25 years, guitarist Mike Stern has used his jazz roots as a starting point for exploring a range of alternate territories that include R&B, rock, swing, funk, world music and numerous other regions along the musical topography. The recipient of Guitar Player magazine's Certified Legend Award for 2012, he's an artist who's not afraid to bring numerous styles and ideas – however diverse – into the same place just to see what happens.
BILL EVANS — Saxophonist Bill Evans first joined Miles Davis group in 1980 at the age of 22, and went on to record six records and tour the world with Davis numerous times over a four-year period. He then toured and recorded three CDs with John McLaughlin and the Mahavishnu Orchestra, and later played with Herbie Hancock, Lee Ritenour, Dave Grusin, Steps Ahead and Mick Jagger, among others, garnering a few Grammy Awards® along the way. The sax man has been touring almost exclusively with his own band since 1990, playing well over 100 concerts worldwide per year. He has recorded 19 solo CDs, including his latest, Dragonfly, and received two Grammy® nominations for his solo releases.
TOM KENNEDY — is an accomplished touring and studio musician who ranks as one of the top acoustic and electric bass players in the world. His credits include performances and recordings with both mainstream legends and leading contemporary players. Tom's musical roots are on the Acoustic Bass, and instrument he started playing at age 9 and took to it so naturally that within a few years he was performing with internationally known players such as Freddie Hubbard, James Moody, Nat Adderly, Sonny Stitt and Stan Kenton. At age 17, Tom would create a musical alter ego when he began playing the Electric bass. Intrigued by the endless possibilities of the instrument, he began developing his now signature style best described as deep, soulful grooves merging seamlessly into acrobatic, horn-­‐like soloing.
DENNIS CHAMBERS — is an American drummer who has recorded and performed with John Scofield, George Duke,Brecker Brothers, Santana, Parliament/Funkadelic, John McLaughlin, Niacin, Mike Stern, CAB, Greg Howe, and many others. Chambers has become well known among drummers for his technique and speed. Chambers is particularly regarded for his ability to play "in the pocket" but can also stretch very far out of the pocket which is also a hallmark of his technique. Chambers exhibits a powerful style that is technically proficient, yet highly musical and groove-oriented. He can play in a wide variety of musical genres, but is perhaps most notable for his jazz-fusion, funk, and Latin music playing. He is mostly known for his fast hands and triplets on the bass drum.


Processing your request, please wait....