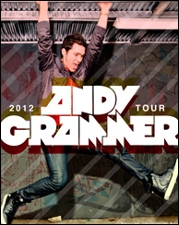 Mentos Presents
Andy Grammer


,

Action Item

,

Amy Kuney

Friday, Feb 10, 2012 8:00 PM EST (6:00 PM Doors)
Highline Ballroom, New York, NY

Purchase Tickets
This show is sold out. If additional tickets are released we will make an announcement via http://www.facebook.com/highlineballroom
Additional Information
Full dinner menu available
General Admission Standing Room
Limited seating available
First come, first seated
All ages
It's widely known that it takes 10,000 hours of deliberate practice to become an expert at anything. Andy Grammer logged his 10,000 hours of practice on the streets of Los Angeles. With his car battery powered-amplifier and acoustic guitar in tow, Grammer managed to sing his way from the streets to the center of the music industry. One listen to his self-titled S-Curve Records debut and it's clear that this young man became an expert. From the buoyant Top 10 hit "Keep Your Head Up" to the breezy "Fine By Me," the jubilant, horn-laced "The Pocket," and the emotionally-charged "You Should Know Better," his irresistible pop songs blend heartfelt, compelling lyrics with instantly unforgettable melodies. Think the relaxed vibe of Jason Mraz crossed with the rock soul of Maroon 5.
Named one of Billboard's 2011 Artists to Watch, Grammer recorded his debut album in New York and Los Angeles with a collection of top producers, including Matt Wallace (Faith No More, Maroon 5), S*A*M & Sluggo (Train, Neon Trees) and Barrett Yeretsian (Christina Perri). Every song that he wrote for the album had one goal in mind. "I'm just trying to track down the truth," says Grammer, who was born in Los Angeles and grew up in New York. While much of his music is upbeat, he's quick to add he's hardly "pink and fluffy. I'm not intentionally trying to be positive, I'm just trying to be real."
Grammer grew up in a musical household. His father, Red Grammer, is a Grammy-nominated children's performer who often indulged his son's desire to get on stage. Based in Los Angeles early in his career, Grammer played everywhere he could, including gigs at more than 100 colleges and universities, as well as birthday parties and high school dance classes. Performing live remains a communal experience for Grammer, who's toured with the Plain White Ts, Josh Kelley, and Natasha Bedingfield, among others. "As an artist, you have an opportunity to get in and move things around in people. It's one of the only times during the day where they say, 'I'm going to open up to some other stuff here,' and you have that hour to get in and move stuff around and put it all back together. Those are the best gigs, where you can see that the whole room has moved somewhere together."

Processing your request, please wait....