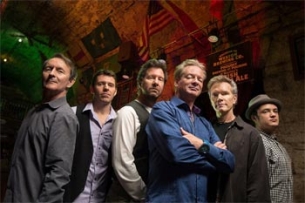 Shank Hall
The Elders
Saturday, May 24, 2014 8:00 PM CDT
Shank Hall, Milwaukee, WI
21 years and over
Purchase Tickets
Online sales no longer available for this event. Contact venue for ticket info. ph 414-276-7288
Additional Information
Since forming in 1998, The Elders have set the music scene on its ear, thanks to a skillful blend of American roots rock and amped-up Celtic folk; a cross-pollination of elements that is high-octane and progressive, yet rooted in tradition.

It didn't take long to establish themselves as one of the top American Celtic-rock bands, headlining the biggest Celtic festivals in North America & Europe, and quickly gaining critical attention in prestigious publications such as PASTE Magazine, Music Row Magazine, Folk & Acoustic Music Exchange, Goldmine Magazine, TRAD Magazine (France), Chicago Sun-Times, Kansas City Star and many more.

Employing a variety of instruments including guitars, drums, banjo, accordion, mandolin, piano & fiddle, these six gentlemen collectively create music that transcends the stereotypical notion of Celtic music. Powerful four part harmonies, blazing instrumentals and song writing that is unaffected by fads, trends and the giant maw of mind-numbing commercialism.

Their songs are mystical, comical, political and cultural, while covering a wide variety of topics such as poverty, civil war, family bonds, spirituality, love and friendship -- They tell us stories of people, places and events - some recent, some distant, some real and some imagined.

Radio embraced several tracks from their previous album, "Gael Day," released in 2009, and their latest album "Wandering Life & Times," released in 2011, resulting in top 25 positions on the national Americana Radio chart.

The band is also familiar to many television viewers, thanks to the more than 130 PBS stations across the nation that aired their "Live at the Gem Theater" Concert Special.

To date, The Elders have produced 6 full-length studio CDs and 3 live CD/DVDs
The most recent project is "The Elders Hoolie" DVD recorded live at the historic Uptown Theater in Kansas City, MO on St. Patrick's Day 2012.


Processing your request, please wait....