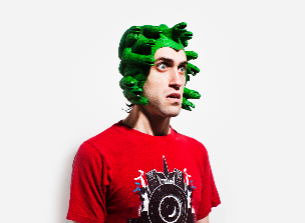 BeardyMan
Saturday, Feb 22, 2014 11:30 PM CST
Bottom Lounge, Chicago, IL
17 years and over
Purchase Tickets
This event is sold out. We discourage buying tickets from third party sellers as we cannot guarantee ticket authenticity.
Additional Information
Beardyman is awesome. . . . After winning the well renowned Lyric Pad Beatbox Battle twice in 2004, he went on to win the title of London champion and UK runner up in the 2005 Championships and the following year became UK Beatbox Champion 2006. He successfully defended his title in June 2007 to become the first beatboxer in UK history to win the national championships twice in a row. He will represent his country in the next World Beatbox Championships (Date to be announced.)

His first musical venture was writing a symphony for his school orchestra at the age of ten. At fifteen, an introduction to drum 'n' bass led to his long-standing obsession with music technology. Now, in his live shows, as well as world-class solo human-beatbox, he uses cutting-edge sound-mangling technology to create dance-inducing layered rhythms, breath-taking soundscapes, fully produced songs and tunes, all improvised and created entirely from his voice. In Beardyman's shows, no pre-recorded material is used, and everything is created live and in real time in front of the audience, who he takes on a mind-bending journey from dumbstruck to dancing and back again. His unique ablity to get any crowd going bonkers has seen him play huge stages ranging from legendary drum 'n' bass rave 'Slammin Vinyl' to the gigantic childrens concerts Young Voices which tour the largest indoor stadiums in the country.

Since starting to play out in 2001 Beardyman has shared stages with the likes of Andy C, Marky, Skibbadee, Shy FX, Skibadee, Grooverider, Nextmen, Groove Armada, Jazzy Jeff, Skinnyman, Terra Firma, Foreign Beggars, Phi-Life Cypher, Blondie, and the Freestylers, the Guillimots, Bill Bailey, Blondie, Sly and the Family Stone to name quite a few, and has acted as compere for a huge variety of events all around Europe, including the Graz Hip hop festival in Austria, the basketball arena at the Earls Court Urban Music Festival and the Love Box main stage, in front of 40,000 people. He hosted 'The Freestyle Show' on Get Lucky TV from 2004 to 2005 with Klum-Z-Tung, the mind-bogglingly quick-witted freestyle-MC, with whom he performs as the Gobfathers. Once described as 'the Fat Boys on acid', their freestyle antics regularly send crowds all over the UK and Europe raving mad and gagging for more.


Processing your request, please wait....