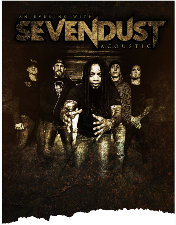 An Evening with
Sevendust Acoustic
Friday, May 09, 2014 9:00 PM EDT (8:00 PM Doors)
Asylum, Portland, ME
18 years and over
Purchase Tickets
We're sorry, there are no tickets currently available through TicketWeb.
Additional Information
Somehow, Sevendust grow stronger with each successive album. Their personal bond not only strengthens, but the music tends to get tougher and tighter as well. Their ninth full-length offering, Black Out the Sun [7 Bros./ADA-Music], staunchly upholds that tradition. They don't stray from the bruising hallmarks of their patented style, but they also don't stick to a script either. They deliver what their diehard fan base has loved since day one, but they continue to challenge themselves in the process. As a result, Black Out the Sun sees Sevendust at their most uncompromising, unwavering, and undeniable.
For the first time since their formation, the quintet took a much-needed break right after touring for almost two years behind 2010's Cold Day Memory. The record served as a milestone for a few reasons. It welcomed founding guitarist Lowery back into the fold after a 6-year absence and yielded the band's highest first-week debut ever on the Billboard Top 200, reaching number twelve on the chart. After the roller coaster tour cycle, the group enjoyed a real "vacation". Lowery and Rose joined forces for Call Me No One, dropping their debut The Last Parade, and Connolly and Hornsby formed Projected and released Human. However, by the summer of 2012, everyone began chomping at the bit to return to Sevendust.
That excitement carried over to the studio. The band retreated to Architekt Music Studios in Butler, NJ where Call Me No One recorded and immediately got back in the groove, self-producing alongside engineer Mike Ferretti. Writing and recording as they went along, the entire album was finished in merely 31 days, only breaking to enjoy a beverage or two at "The Murder Bar."
That story also happens to be the band's deepest to date. Prior to recording, Lowery endured the loss of his father Willie, a patriarch for the group as a whole. The title track went on to serve as a tribute to him.
"Lajon kept saying the line Black Out the Sun over and over again, and I attached that title to my experience with my dad," recalls Lowery. "He was a huge part of my musical history. He was a great musician, and I idolized him. The song is about the anger I had over losing him. It's not lashing out, but it's dealing with that sadness positively. Life gives and it takes. It was important for me to give him this one last message about how much he means to me."
With its staggering guitars and impactful melody, "Black Out the Sun" stands indicative of the record's vibe as a whole. "I always felt like this album was going to be dark," Witherspoon goes on. "It's darker, but it's lighter too. From the end to the beginning, you're able to tap into every emotion. As we get older, we see death more, but we also life more with these babies we're having and our kids growing up. We're going through this transition of life and seeing the devastation and change in the world."
Witherspoon concludes, "I can't wait for people to feel the emotion and energy in this album. I'll never forget the first time we got together. There was something magic about it. It's like this band is what we were all meant to do. I still feel that way. I never want to stop. This is what fans have been waiting for, and Sevendust is here to stay."


Processing your request, please wait....