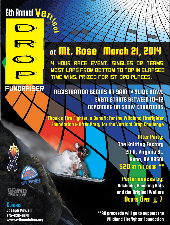 The Silver State Hotshots Presents
The 6th Annual Thank a Firefighter Concert




The Original Wailers

,

Sil Shoda

,

Smokin Rat's

Friday, Mar 21, 2014 7:30 PM PDT (7:00 PM Doors)
Knitting Factory Concert House - Reno, Reno, NV

Additional Information

WILDLAND FIREFIGHTER
FOUNDATION


Our Mission

Wildland Firefighter Foundation's main focus is to help families of firefighters killed in the line of duty and to assist injured firefighters and their families. We honor and acknowledge past, present, and future members of the wildland firefighting community, and partner with private and interagency organizations to bring recognition to wildland firefighters.

Our Story

The Foundation came together as a group of volunteers in 1994, shortly after the Storm King tragedy. With dedication and lots of volunteer work, plans were developed for a national monument to honor firefighters, a dream that was realized in May 2000. The Wildland Firefighter Foundation was officially formed in the spring of 1999. Our board members realized that there was a great need to have emergency support services for the families of fallen firefighters.

Active volunteers and supporters of wildland firefighters established the Wildland Firefighter Foundation, a 501(c)3 to maintain the Wildland Firefighters National Monument at the National Interagency Fire Center (NIFC) in Boise, Idaho.

Since 1999, the Foundation has also provided emergency support services to the families of firefighters, seriously injured or killed in the line of duty. Families left behind, many with young children, often find themselves with few resources, and the Foundation steps in to help.

Our Wildland Firefighters

Wildland firefighters represent the diversity of the land they protect. They are federal, state and local firefighters, private sector firefighters, interface firefighters, and volunteers from rural communities and towns across the United States. Many are long-time career professionals, some much newer to the job. They're ordinary people doing an extraordinary job – a community of committed individuals who work and train to protect our private and public lands.



Our Role in the Community

The role of the Wildland Firefighter Foundation is to honor past, present, and future wildland firefighters by helping maintain and grow the national monument established for those who have lost their lives, operate a financial fund providing assistance to the families of fallen and wildland firefighters and to injured firefighters, and partner with private and interagency organizations to educate the public about wildland fires and promote excellence and safety in firefighting.
We provide financial assistance, immediate and ongoing emotional support, advocacy, and recognition to fallen and injured wildland firefighters. We present program information and in some instances, onsite crisis support, to government and private fire agencies and other organizations.


Survivor family members are forever a part of the Foundation's purpose. We continue to provide emotional support and in some cases financial support many years after a firefighter's death. Additional support may include holiday sponsorships for families with young children, travel expenses to attend survivor gatherings and recognition programs, and counseling for immediate family members.


Processing your request, please wait....