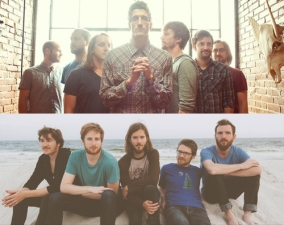 Varsity Theatre
The Revivalists

&

Moon Taxi


plus

Stone Rabbits

Wednesday, Apr 09, 2014 8:00 PM CDT
Varsity Theatre, Baton Rouge, LA
18 years and over
Purchase Tickets
On-line sales for this show have been stopped but tickets are still available at the box office and the doors. We hope to see you shortly!
Additional Information
THE REVIVALISTS
The formation of The Revivalists was all about chance, but everything since then has been a combination of hard work, awesome music, and friendship. The septet has been playing nonstop since 2007, crafting a genre-hopping sound that rounds out traditional rock instrumentation with horns and pedal steel guitar and mixes the divergent backgrounds of its individual members with the humid, funky undercurrents of the band's New Orleans home. The result is like English spoken with an exotic accent: familiar, yet difficult to pin down.

Religion aside, a revival is all about the tangible electricity that can only be created when enough like minds are crammed under a single roof for a singular purpose. It's a spiritual spectacle, a carnival of the divine, a whole greater than the sum of its parts. The same could be said for The Revivalists' searing live performances. The band has a knack for bringing music to life on a stage, and they have tuned their talents to Swiss-watch precision over years of relentless touring. Their bombastic showmanship is the outgrowth of a desire to connect with audiences on a personal level, and that intimate connection is what elevates their shows above simple entertainment.

True to their name, The Revivalists lean more heavily on the older styles and warmer sounds of the golden age of rock 'n roll, but the band isn't afraid to dabble in electronics and sleight-of-studio when it's right for the song. The group tends not to bother with questions like "does this sound like us?" or "does this fit with our other stuff?", instead allowing songs to define themselves and take shape organically, each on its own terms. Is this a dark, heavy rock manifesto driven by a steel guitar line that borders on electronica, or is it an airy, acoustic story about star-crossed lovers, rich in vocal harmony and sparsely arranged until the coda? This one's funky, that one's sweet, this one's heavy…

To The Revivalists, it doesn't matter. They just write songs that they want to play.

MOON TAXI
For the members of Moon Taxi, their third album, Mountains Beaches Cities, represents the idea of exploration - searching both the world and themselves for new experiences. The Nashville rock group, who had honed in on a notably compelling aesthetic with their previous album Cabaret, focused on extending the sonic landscape they'd created in earlier recordings, but this time around they amp up the
speed and turn up the volume – creating an overall bigger sound. The album was self-produced by Moon Taxi's own guitarist Spencer Thomson with the help of keyboardist Wes Bailey and was mixed by Vance Powell (Jack White, The Dead Weather) and mastered by Greg Calbi (Talking Heads, Paul Simon, Fleet Foxes). "One thing we didn't want to do was stray too far from what we did before," Wes says. "We really knew that things for the band had shifted in a good direction and we were growing because of our last record. We wanted to continue the energy we created from that record."


Processing your request, please wait....