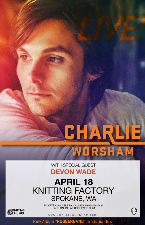 Additional Information
Warner Bros. Records' recording artist Charlie Worsham recently performed at Nashville's world famous Grand Ole Opry, just released his debut album Rubberband on August 20th to impressive reviews!
The Mississippi native, co-wrote and co-produced the 11-track album with Ryan Tyndell in East Nashville, TN. (Executive Produced by Arturo Buenahora). It features his current Top 20 hit single "Could It Be," the albums' title track "Rubberband," as well as "Tools of the Trade," a special collaboration between Worsham, Marty Stuart and Vince Gill - two of his biggest musical idols.


Processing your request, please wait....