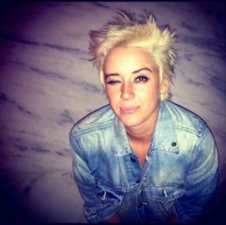 The Grog Shop
Cat Power (SOLO)
Wednesday, Nov 20, 2013 9:00 PM EST (8:30 PM Doors)
Grog Shop, Cleveland Heights, OH

Purchase Tickets
We're sorry, there are no tickets currently available through TicketWeb.
Additional Information
The Grog Shop welcomes CAT POWER w/ TBA Special Guests!
Six years after her last album of original material, Chan Marshall aka Cat Power has moved on from her collaborative forays into Memphis soul and Delta blues. She wrote, played,
recorded and produced the entirety of SUN by herself, a statement of complete control that is echoed in the songs' themes.
Marshall calls SUN "a rebirth," which is exactly what this confident, ambitious, charismatic record feels like. "Moon Pix was about extreme isolation and survival in the crazy struggle," she says.
The music on SUN employs a sweeping stylistic palette: There's the classic Cat Power haunting guitar and provocative vocal hook in "Cherokee" ("marry me to the sky…bury me upside down"); the irresistible Latin sounding nine-piano loop of "Ruin"; upbeat, almost dancey electronic anthems like "Real Life" and "3,6,9"; and the stirring, 8-minute epic "Nothin But Time," featuring a vocal cameo by Iggy Pop. The narrative arc of the record is deeply American in its spaciousness and optimism; the music is defiantly modern and global.
Though devoid of grave bedroom confessionals, SUN is possibly Cat Power's most personal album to date. For all its layered expansiveness, it is as handcrafted as her debut, and never has a Cat Power album so paralleled her personality and state of mind – channeling her humor, anger, deep empathy, musical inspirations, technical skill, and spiritual inquiry into an album that's both surprising and comforting.
Those versed in the Cat Power discography will detect elements of 2003's landmark album You Are Free, which experimented with vocal forms and beats borrowed from urban music, and the spellbinding authority of songs like "American Flag." Sonically, however, with credit to mixer Philippe Zdar (Phoenix, Chromeo, Beasties), SUN is incredibly fresh, reflecting its forward-looking mindset.
Lyrically, Marshall has transcended the angst and self-absorption of her young self, but is still inspired by youth; much of the album is a plea for overcoming societal expectation and individual oppression. "Human Being" puts faint minor-chord fingerpicking over spooky, repetitive bass, with lyrics that could read as feminist – "you got a right to scream when they don't want you to speak" – but are for anyone who feels they don't have a voice. "Peace And Love" opens with a Nina Simone line – "peace and love is a famous generation" – then cites Black Flag, flips off people who dismissed her teenage idealism, and proudly concludes, "I'm a lover but I'm in it to win."


Processing your request, please wait....