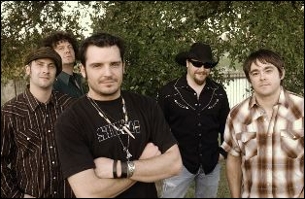 Mystic Theatre
Reckless Kelly


plus

Drifting Compass

Friday, Sep 30, 2011 9:00 PM PDT (8:00 PM Doors)
Mystic Theatre, Petaluma, CA
21 years and over
Purchase Tickets
We're sorry, there are no tickets currently available through TicketWeb.
Additional Information
The five members of Reckless Kelly didn't undertake any grand act of musical reconciliation when they went into the studio to record their fifth album, Wicked Twisted Road. But, to hear them tell it, it just sorta worked out that way.

"There is a lot of the most country stuff and a lot of the most rock stuff we've ever done on this record," said guitarist and songwriter Willy Braun.

"We were trying to make a record that went from country to country-rock and back to country, with maybe some classic rock in the center," added Willy's brother Cody Braun, a triple threat on fiddle, mandolin and vocals.

Wicked Twisted Road has echoes of both the Eagles and .38 Special within its tracks, but it mostly bristles with the muscular, idiosyncratic energy and inventiveness that has led the band (which also includes guitarist David Abeyta, bassist Jimmy McFeeley, and drummer Jay Nazz) to become one of Austin, Texas' most dynamic and relentlessly entertaining live acts.

The band arrived in 1997, at a time when the local music scene was beginning to segue from Stevie Ray Vaughan-era blues and R&B to a raucous Texas-centric fusion of country and rock at the hands of Pat Green and Jack Ingram.

Re-christened Reckless Kelly by this point (after the folk-hero Australian outlaw), the young band began hitting the honky-tonks and listening rooms in the Texas capital. Robert Earl Keen, one of the deans of the booming Texas country-rock scene, took them under his wing.

Most important to any developing young act, Reckless Kelly found a home: Lucy's Retired Surfer Bar was one in an endless strip of shooter-and-Jello-shot bars up and down Austin's Sixth Street district, but the joint let the band play acoustic shows every Monday and Friday night. In between, the band members tended bar, made inroads on the bar inventory and damn near received their mail there.
The group released its first album, Millican, in 1997; it sold over 20,000 copies, a formidable sum for a debut album on an indie label by a fledgling band. Acoustic: Live At Stubb's followed in 2000, as did The Day the same year.

All three albums found the band refining their sound; Millican was infused with country and folk influences, while The Day layered on cranked-up electric guitars (Acoustic, with its 16-minute version of "Whole Lotta Love," was more a souvenir for the fans, but fascinating in its own right).

Now, Wicked Twisted Road is a bid to take everything up to a new level. Although they frequently perform on the same stage as Robert Earl Keen, Kevin Fowler, Jack Ingram, Cross Canadian Ragweed, Pat Green and the rest of the A-list of Texas country-rock, the members of Reckless Kelly don't feel themselves unnecessarily confined by the "Texas Music" label. Their vision is coast-to-coast.

The Braun brothers, who were literally raised on the road, and the rest of Reckless Kelly, know that such careers are built one Saturday night at a time. Wicked Twisted Road documents a band that's ready to go the distance.


Processing your request, please wait....