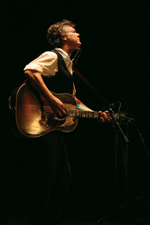 Iridium Jazz Club
Steve Forbert
Thursday, Nov 07, 2013 8:00 PM EST
Iridium, New York, NY

Purchase Tickets
Pre-sale tickets are no longer available for this event. Tickets will be available at the door, or contact our box office at 212-582-2121 for further information.
Additional Information
Steve Forbert
As a young man from Meridian, Mississippi, Steve traveled to New York City and played guitar for spare change in Grand Central Station. He vaulted to international prominence with a folk-rock hit, "Romeo's Tune," during a time when rootsy rock was fading out and the Ramones, Talking Heads and other New Wave and punk acts were moving in to the public consciousness. "Those styles didn't really synch with my musical approach," reflects Forbert. Still, critics raved about Forbert's poetic lyrics and engaging melodies, and the crowds at CBGB's club in New York accepted him alongside those acts. "Ive never been interested in changing what I do to fit emerging trends," Forbert observes. "Looking back on it, I was helping to keep a particular American songwriting tradition alive at a time when it wasn't in the spotlight."

Forbert's lengthy discography has established him as an American icon. His music was pure Americana before that genre was recognized. The road and the changing landscape are an integral part of the hard-working Forbert's life and songwriting. He was a truck driver before releasing his first album and says there's "romance" involved when he gets in the car after each show and drives to the next gig in another city.

Fourteen albums on, Forbert's stamp on American music is akin to the legendary footprints of Warren Zevon, Gene Clark, Gram Parsons and other top American songwriters, and he has often been compared to the likes of Bob Dylan, Tom Petty, and Bruce Springsteen. The former group did not get their due during their lifetimes, and that shouldn't happen to Forbert. He deserves to be among the latter group.

Now, 34 years after his first album, Steve Forbert is releasing an exciting new one, Over With You. Its ten fresh but mature songs pinpoint a wide range of emotions that color personal relationships — emotions that most listeners have undoubtedly felt and struggled to understand at some point in their lives. "This is an album that has taken a lifetime to make," explains Forbert. "You don't just pull these songs out of thin air — you have to live them."


Processing your request, please wait....