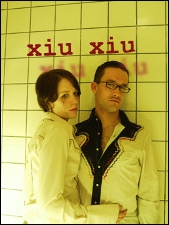 Pyramid Scheme
Xiu Xiu


+

Kindest Lines

+

Hedgehog

+

tokyo morose

Wednesday, Sep 21, 2011 8:00 PM EDT
The Pyramid Scheme, Grand Rapids, MI
18 years and over
Purchase Tickets
Tickets are available at the door!
Additional Information
Xiu
Xiu
returns to Michigan on their fall tour, with special guests Kindest Lines and Hedgehog in tow. The tour stops at Grand Rapids' newest venue, The Pyramid Scheme, on Wednesday, September 21. Ages 18+ are welcome, doors open at 8pm, and tickets are $12 in advance, $14 at the door.
Jamie Stewart — as

Xiu

Xiu

— has always made searingly emotional music, and Stewart's drama-rich warble is undeniably arresting. Listening is sometimes akin to having a raw nerve being poked; lines like "You were beautiful and I lost you/ like a whip covered in pins and glue" jolt and shock, but are utterly satisfying to those seeking music with visceral impact. Musically, Dear God… is a skillfully balanced blend of post-punk angst and electronic/IDM pop, and perhaps the most cohesive

Xiu

Xiu

release yet. Gothic-tinged synthesized textures (made with software for the Nintendo DS) and electronic pulses push a song like "Secret Motel" to an exciting edge, but those same elements tame "Apple for a Brain" into a muted, gray-toned pop bauble, and the lovely "This Too Shall Pass Away" into an ethereal, new-wave dance number. The disarmingly catchy title track and opener "Gray Death" are built on bold percussion and guitars that soar and surge, punctuated with electrified screeches and hiccups. Stewart makes extraordinary art out of examining life's darker forces.


Processing your request, please wait....