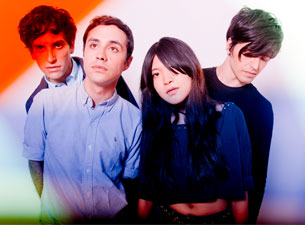 AC Entertainment & Mercy Lounge
The Pains of Being Pure At Heart


with

Twin Sister

Sunday, Oct 16, 2011 8:00 PM CDT (7:00 PM Doors)
Mercy Lounge, Nashville, TN
18 years and over
Purchase Tickets
Online ticket sales for this event have ended. All remaining tickets are available at the venue door/box office.
Additional Information
Do The Pains of Being Pure At Heart belong? After garnering widespread acclaim from the likes of The New York Times, Pitchfork and NME to countless indiepop forums, blogs and even Live Journals for their out-of-nowhere s/t 2009 Slumberland debut, have The Pains made the kind of record that will matter to the kind of people to whom records still matter?
From the opening explosions of electric guitar on "Belong" ("We don't") and the sumptuously synthetic dance pop perfection of "The Body" to the prom-in-heaven chorus of "Even in Dreams" and the closing moments of the uncommonly sincere and affecting "Strange" ("…and dreams can still come true") the answer is an unqualified, resounding (and damn good sounding) "Yes."
Having moved beyond mimicking, albeit exquisitely, their impressive record collections, this album is a celebration of the possibilities of pop from New York City's pre-eminent indiepop believers. It is as much an affirmative answer to "can they" (rise above their influences? Capture the magic of their debut without repeating it? Use color on their album sleeves?) as it opens the door to the more difficult question of "how do they?"
Or more precisely, how do they make such affecting, yet unaffected pop music? How do they sound at once confidently vulnerable and carelessly thoughtful? How does a band on Slumberland make a record with two of the most recognized producers in the world and come out the other end sounding even more like themselves than before? The dichotomies are daunting, but their resolution on Belong is nothing short of stunning.
Recorded with the production and mixing team of Flood (Depeche Mode, U2) and Alan Moulder (Smashing Pumpkins, Jesus and Mary Chain, Ride), Belong unleashes added power, while retaining all the sweet sweet melodies that still hit that pop spot.
"I definitely see this album as keeping with what we started doing at the beginning, only more," says singer/guitarist Kip Berman. "More immediate, more noisy, more beautiful. We never stopped believing in noise and pop, but now we've pushed both further. Compared to the last record, It's far more visceral, more vital, more of the body. It's about feeling, not feelings."
A continuation of what they started is a good thing, considering the loyal admirers and grass-roots support for what "could be the most promising indie pop group around" (Pitchfork). Never ones to get bogged down in self-seriousness, though, what we've got here is a band who tends to spend most interviews talking about how barely-remembered underground pop bands of the 80s and 90s are far superior to their own music, eats copious amounts of Haribo Gummi Candy and plays Boggle and Basketball on the road.
"The whole experience has just been a lot of fun for us - and a huge learning process," says singer/keyboardist Peggy Wang, "We've really always gone more on intuition than technique. We've always followed our heart. My favorite bands are the ones where you can tell the people are true friends and would be hanging out together even without playing music – or at least that's what we are and I wouldn't want it any other way."


Processing your request, please wait....