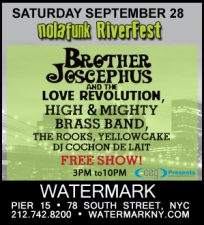 Purchase Tickets
THIS IS A FREE EVENT! A valid ID is required to Enter.
Additional Information
Winners of the Independent Music Awards "Best Live Performance" Category 2011, Brother Joscephus and the Love Revolution is on a mission to make the world a more righteous place. The two main visionaries of this 12-piece explosion of love - Brother Joscephus and his eccentric cohort, The Right Reverend Dean Dawg - dip heavily into a musical gumbo rich with old school soul, roots, classic rock stylings, New Orleans rhythms, and feel-good "secular gospel" music. BroJo combines all this with a message of righteousness, urging us towards acceptance and loving one another. When you combine the music and the message with a one-of-a-kind, high-energy stage spectacle, you got yourself one hell of a revolution on your hands.
The High and Mighty Brass Band (HMBB) is a party already in progress. Their performances are both fiercely entertaining and refreshingly inspiring. The group's sincere enthusiasm and dynamic energy connects with every audience member who is willing to get involved. Their sound is a mix of classic New Orleans Funk, R&B and more modern influences of Afro-Beat and Hip Hop.
Beginning with a heavily percussive and tribal groove, the horns weave through solos, building and stretching the energy to its limits.


Processing your request, please wait....

Nolafunk RiverFest
featuring
Brother Jocephus & the Love Revolution
,
High & Mighty Brass Band
,
The Rooks
,
Yellowcake, DJ Cochon de Lait
/
THIS IS A FREE EVENT!