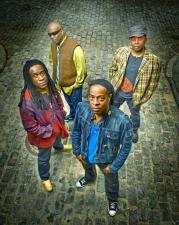 SPACE
93XRT welcomes Living Colour
Tuesday, Nov 05, 2013 8:00 PM CST (7:00 PM Doors)
SPACE, Evanston, IL

Purchase Tickets
We're sorry, there are no tickets currently available through TicketWeb.
Additional Information
93XRT welcomes Living Colour
The 25th Anniversary of Vivid, being played cover to cover
Living Colour will also be performing at SPACE on Monday, November 4th. Tickets available here.
The brainchild of Vernon Reid, Living Colour first emerged on downtown Manhattan's vibrant 'no-wave' punk-funk music scene in 1983. Reid, a Brooklyn native (born of Caribbean immigrant parents from Montserrat) and barely out of his teens had quickly established himself there as a fiery and rising guitar star. He had honed his skills playing in avant-funk bands like Joe Bowie's Defunkt and Ronald Shannon Jackson's Decoding Society and had toured Europe, Asia and Africa several times, when he decided it was time for him to step out and do his own thing, a more rock and roll oriented thing. The embryonic versions of Living Colour played instrumental music rife with evidence of Reid's eclectic tastes, experiences and background. The occasional vocal feature found Reid himself shouting and crooning to a sometimes-comic effect, more out of necessity than desire. Due to its hybrid nature, that first edition of L.C. was considered a suitable opening act for groups as disparate as Fishbone, The Art Ensemble of Chicago and John Cale. Living Colour went through two rhythm section changes before arriving at the ensemble whom recorded Vivid, their major label debut on Epic Records in 1988. Reid lost two sets of journeymen band mates to more lucrative gigs with Lisa Lisa and The Cult Jam and Steve Winwood--- career transitions, which ironically indicate just how wide of a musical net Living Colour was already casting.

The mid-80s American music business—radio, record labels, MTV included—was not the most inviting place for an African American yearning to parlay his own brand of metal-dusted rock music. It also seemed to Reid, that a de facto policy of discrimination was being enforced in the business---one that treated rock music as a 'whites-only' province, one where, with rare exception, artists of African descent were expected to only scuffle in acceptably 'ethnic' genres---R&B, rap or reggae---if they wanted to get ahead. Many of Reid's Black peers who wanted to also play rock decided it was easier, and less of an economic risk, to accept musical apartheid. In 1985 Reid, an anything but passive student of Civil Rights history, invited several associates (who included film producer Konda Mason, record producer Craig Street and musician Geri Allen) to join him in forming the Black Rock Coalition. The BRC's stated aim was to combat industry racism and become the pro-active advocates of musical liberation they were seeking. A quarter-century later the BRC's members have come to include the bands Fishbone and Bad Brains, and have become world-renowned for their Black Rock Orchestra which Reid formed and initially directed while Living Colour began building an incendiary rep as one of NYC's best live rock acts.


Processing your request, please wait....