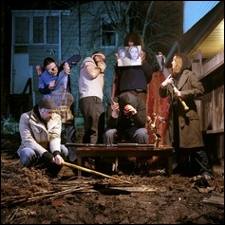 The Bell House
Black Moth Super Rainbow
Friday, Sep 23, 2011 8:00 PM EDT
The Bell House, Brooklyn, NY
21 years and over
Purchase Tickets
Tickets are no longer available here. Visit www.thebellhouseny.com for tickets.
Additional Information
After a year of eerie, stilted silence, the sun shines and the shadows reappear. Black Moth Super Rainbow has crept from the forests and cities to make Eating Us, their dark bubblegum freakout for 2009. The first fully hi-fi BMSR record, Eating Us, adds space and dimension to the band's sticky, off-kilter melodies. This isn't an album about witches and woods, and this time around the band isn't letting on to what it all might mean. Because to them, it's just better that way.
The modern musical unit known as Black Moth Super Rainbow first emerged from an obscure Pennsylvania forest glen in 2003 to relay a somewhat confounding sound with Falling Through a Field. Over the next few years, that peculiar sound developed, and the cult ofBMSR began. With the release of their naturally-sweetened, candy-coated, and acclaimed 2007 treat, Dandelion Gum, a number of curious listeners bent their ears and adjusted their listening habits to incorporate Black Moth Super Rainbow's oddly creepy and off-beat sweet audio plyings. With support slots opening for Flaming Lips and Aesop Rock, the oft-camera shy outfit was soon positioned in front of thousands of brand new sonically adventurous music enthusiasts who weren't necessarily prepared for the eccentric visuals of BMSR's surreal live show, but would hopefully emerge changed, and be better off for it.
Their new full length presentation for 2009, Eating Us, promises to up the ante on the fidelity and melodies that BMSR have become known for. Here, the merry cryptic band has added some new flavors to their already well-established rainbow of sounds, with even more dense layers of lushly complex orchestration, intensely rhythmic drumming from a live, human drummer, vocoder vocals that are anything but robotic, and thick, undulating bass tones. Recorded at Tarbox Road Studios, Eating Us marks the first time BMSR has ventured into a modern recording studio. Production and partial tracking were handled by Dave Fridmann (The Flaming Lips, MGMT, Weezer) whose hands and ears were the only ones trusted to keep the freaked out wiggles and hairy candies fully in-tact, while also expanding them in a more realistic space.
Now a six piece, BMSR could come or go at any time, however 2011 promises a return to touring.


Processing your request, please wait....