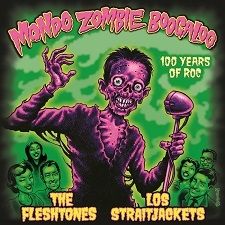 Purchase Tickets
Tickets are no longer available online, but may be available at the door.
Additional Information
Saturday night (Oct 19), Los Straightjackets and The Fleshtones will be throwing a Halloween Party at The Southgate House Revival.
When it comes to delivering high-energy rock and roll instrumental music, no one equals the finesse, power and perseverance of Grammy-nominated Los Straitjackets.
Their latest effort, the Halloween themed album Mondo Zombie Boogaloo is now available everywhere. The album is a collection of new music from the Straitjackets and legendary bands The Fleshtones and Southern Culture on the Skids. The set includes originals and standards from each band and promise to put listeners in a spooky mood for the Halloween season. With songs such as "Ghostbusters," "Goo Goo Muck," "Haunted Hipster," and a collaboration by the three bands on"Que Monstruos Son" (otherwise known as "The Monster Mash" en Espanol),
Mondo Zombie Boogaloo is sure to revive both the living and dead this Halloween.
Mondo Zombie Boogaloo is available on CD, digitally, and double LP on colored vinyl. The album cover features artwork by Steve Blickenstaff, known famously for his unforgettable work on The Cramps' 1984 album Bad Music for Bad People.
Kicking things off will be legendary garage band, The Fleshtones.
Since 1976, THE FLESHTONES have been blending R&R and R&B, serving it across the globe with smiles, attitude, and sweat, & calling it SUPER ROCK!
The Fleshtones are Peter Zaremba (vocals, harmonica, & organ), Keith Streng (guitar & vocals), Bill Milhizer (drums & vocals), and Ken Fox (bass & vocals). Based in Brooklyn, New York, the quartet's origins lie just a few miles north in Queens, where in 1975 Streng and original bass player Marek Pakulski rented "The House," as it was infamously known, and found instruments down in the basement. To quote Keith: "How and why The Fleshtones started was that there was a place to do it!" Countless "Blue Whale Bashes," Lower East Side sightings, and an endless string of gigs and records later, The Fleshtones continue to record and perform with a wit, passion, and energy that few bands can top.

For the whole story, check out:

Sweat: The Story of the Fleshtones, America's Garage Band (by Joe Bonomo) http://on.fb.me/WFSbwh


Processing your request, please wait....