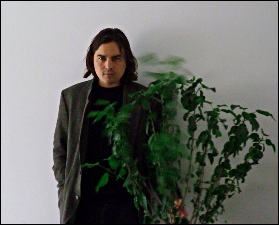 Autumn Addict Presents:
Moonface Ft Spencer Krug of Wolf Parade/Sunset Rubdown


with

Flow Child

&

Cherub

Saturday, Jul 30, 2011 8:00 PM CDT (7:30 PM Doors)
- Saturday, Jul 30, 2011 11:55 PM CDT
12th & Porter, Nashville, TN
18 years and over
Purchase Tickets
Tickets available at door
Similar Events
finding similar events...

Additional Information
Moonface's first tour is coming in July. After the jump, read a message from Spencer Krug about the new record! Today is my birthday. I am getting up there. Maybe one day I will be full-old, not just half-old like I am now, and tour around as "Spencer Krug," playing ancient Wolf Parade and Sunset Rubdown songs on a baby grand. I'll have a tumbler glass of whisky and an ashtray and a nice jacket. It will be terrible. But until that day arrives I will go instead by "Moonface" – the last moniker I have left to exploit. Moonface is not a band, just plain half-old me, in any solo or collaborative projects I'm involved in from now until whenever. In early 2010 the first EP was released on Jagjaguwar. It was called Dreamland EP: Marimba and Shit-Drums, and sounds as the title suggests. This past winter, trying to keep sane in my snowed-in Montreal home, I recorded another solo record. This new one is an LP called Organ Music not Vibraphone like I'd Hoped and is due out August 2nd, 2011. At first this record was going to be another percussion album, not completely unlike the Dreamland EP, done with a vibraphone and some sparse guitar, extra percussion, what have you. But it wasn't happenening. I don't know why. Sometimes it just doesn't happen. Then, one night, laying awake and thinking about music, I suddenly wanted to play an old double-manual organ – the kind from the 80s that you find in your grandmother's basement. I would procure such an organ, hook it up to big whirling speakers and powerful amplifiers, and make a long, drone-filled, lush and noisy album of intense volume and beauty and poeticism. This was the new plan. Half of it happened. I found the organ, bought it up, plugged it into big whirling speakers and powerful amplifiers, and got down to making some lush drones. But the lush drones did not come. You see, I have a little dude who lives inside me that loves pop music, and he sometimes finds his way into my hands. When this happens, my fingers move toward the catchiest melodies they can, like bees to flowers with the most pollen.


Processing your request, please wait....