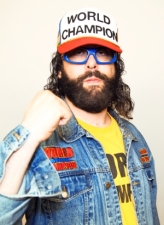 Carolines on Broadway
Judah Friedlander
Friday, Nov 22, 2013 10:30 PM EST
Carolines on Broadway, New York, NY

Purchase Tickets
Please call 212-757-4100 to make a reservation
Additional Information
JUDAH FRIEDLANDER
On the comedy stage, Judah Friedlander is The World Champion. He is the best athlete in the world, greatest martial artist, the sexual desire of every woman, and a role model to children. Let's face it, Judah is the greatest comedian in the world… And the most humble. Judah is an extra-dark blackbelt in karate.
Judah is known to comics & audiences as one of the funniest and most original stand-up comedians. Seeing Judah perform live is always a unique experience. He always has new jokes & he plays off the audience making up jokes on the spot. You will never see Judah do the same show twice. Because Judah is so awesome, he's also one of the most copied comedians. But a copy is never as good as the original. And no one can top The World Champion.
Judah started doing stand-up in 1989 and has been doing it just about every night ever since. Even though Judah has made over 30 movies & appeared in hundreds of TV shows - stand-up comedy is Judah's priority and specialty. He is not an actor who does stand-up on the side. He's a stand-up comedian who acts on the side.
You can watch Judah as "Frank Rossitano" on the Emmy-winning "30 Rock" every night in syndication & on Comedy Central, as well as in new episodes every Thursday night on NBC.
Judah has made multiple hilarious appearances on many late night talk shows including: Letterman, Conan, Fallon & The Daily Show.
Judah was nominated for Best Supporting Actor at the 2003 Independent Spirit Awards for his role in the Sundance-winning "American Splendor". Some of his other movies include "Meet the Parents", "Wet Hot American Summer", "Feast", "Zoolander", and "The Wrestler".
Judah's hilarious instructional karate book "How To Beat Up Anybody" is based on his stand-up act, but with all brand new material. He sells & signs it after shows. Judah does meet & greets after every show. Judah does not charge for photos. So, you don't have to ask Judah if it's ok to take a photo – you can take one with him, and it'll be the sexiest photo you've ever seen.
Next year Judah will be coming out with both a stand-up album and stand-up concert movie.
For Groups of more than 12 please call 212-956-0101 x 203
Green Harlequin Package
One reserved VIP ticket
VIP Priority Check-in - no waiting on lines
Gold Harlequin Package*
One reserved VIP Ticket
VIP Priority Check-in - no waiting on lines
Top Shelf Open Bar during the show - open top shelf bar, domestic and imported beer, wine, soda, and bottled water
*Gratuity is NOT included in the price of the package. You can leave a gratuity for your server at the end of the show.
Upon arrival at Carolines, both Green and Gold ticket purchasers should proceed directly to the host podium at the bottom of the stairs. Due to the location of these priority seats, we can only hold them until show time. Late arrivals will be seated in the best available seats.


Processing your request, please wait....