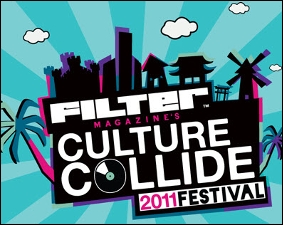 Filter Magazine
Culture Collide Festival
Thursday, Oct 06, 2011 7:00 PM PDT
- Sunday, Oct 09, 2011 8:00 PM PDT
Culture Collide Festival, Los Angeles, CA
21 years and over
Purchase Tickets
Limited Tix Available at ReForm Academy
Additional Information
CSS (Brazil)

Lindstrøm (Norway)

Clap Your Hands Say Yeah (US)*

Gang Gang Dance (US)*

The Rapture DJs (US)**

YACHT (US)

Avi Buffalo(US)

Liam Finn (New Zealand)

DJ Harvey (UK)

The Elected (US)

Rainbow Arabia (US)

Buck 65 (Canada)

MEN (US)*

The Morning After Girls (Australia)

Laura Jansen (the Netherlands)

The Gift (Portugal)

The Asteroids Galaxy Tour (Denmark)

Isobel Campbell (Scotland)

Chad VanGaalen (Canada)*

Jason Falkner (US)

He's My Brother/She's My Sister (US)


+ MANY MORE

A limited number of $20 wristbands are available, which grant entry into all shows (pending capacity) throughout the Culture Collide Festival.


* performing exclusivly at the Free Toyota Antics Block Party. Wristband holders will have access to priority viewing area
** performing exculsivly at the kick off party. seperate RSVP required
As our gift to you, please enjoy some free music from some of the bands playing at the festival. A download link will be in your order confirmation email. Free mp3's from:
Datarock (Norway)
Cameras (Australia)
De Staat (Netherlands)
Death Letters (Netherlands)
Electra (Israel)
Guineafowl (Australia)
Holger (Brazil)
Hypernova (Iran)
Indigo Tree (Poland)
Laura Jansen (Netherlands)
My bubba & Mi (Denmark)
Paula i Karol (Poland)
Please the Trees (Czech Republic)
The Lanskies (France)
The Yellow Dogs (Iran)


Processing your request, please wait....