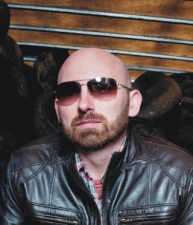 Joes Bar
Corey Smith


with

Dirty Guv'nahs

Saturday, Aug 10, 2013 8:45 PM CDT (7:00 PM Doors)
Joe's on Weed Street, Chicago, IL
21 years and over
Purchase Tickets
Tickets are no longer available online.
Additional Information
Writing a biography can be similar to writing a song, I suppose. If I make a commitment to preserving my stream of consciousness and resist the temptation to stop and judge myself it might even be as therapeutic. The problem is the scope. Thirty-three years is a long time to squeeze into a few paragraphs and I'm not sure my inner voice is capable of being so concise. Where do I begin? Where do I end? What do I include? What do I leave out? Yep. This is a lot like songwriting.


I'll start with the present—the so-called gift of now—though I'm home alone and it hardly feels like a gift. Shannon and the boys (ages 4 and 5) left yesterday to visit family in Ohio. I would've gone with them, but I'll be leaving first thing in the morning for a string of dates in the Southeast.
The empty house is unnaturally quiet and it's driving me nuts. Surprisingly, I find myself longing for the noise and commotion that I'm normally trying to suppress. It goes to show that sometimes I don't know what the hell I want. 

I'm glad to be home though and if nothing else, the peace and quiet provides an opportunity to clear my head and focus on the task at hand.
Fortunately, my best writing happens here at home, where I'm most at ease. Our house is just beyond the city limits of Jefferson, a small town nestled in the hills of northeast Georgia, an hour from Atlanta and only 25 minutes from Athens. It's the town where I was born, where I spent most of my youth, and the only place I've ever been truly happy.
Although there was a time when I wanted to get as far away as possible, I now realize it's the only home I'll ever know. During most of high school, Jefferson seemed like a prison and I dreamed of escaping. I knew almost everyone but I felt like a stranger, never quite fitting in. I wasn't a jock or an academic, a redneck or a thug, but a nameless face, lost somewhere in the middle, struggling for an identity. It wasn't until my senior year that I began to find one. Equipped with my acoustic guitar and a genetic predisposition for boozing it up, I became the human jukebox, singing and partying with almost everyone in town.


Processing your request, please wait....