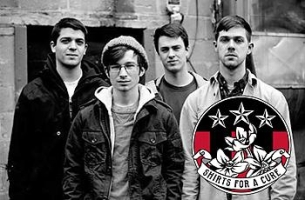 Purchase Tickets
Tickets available at the pier, cash only!
Additional Information
Here at Shirts For A Cure, you help make a difference in the lives of women stricken with breast cancer RIGHT NOW. The proceeds from our t-shirt and wristband sales go to clinics across the country to provide chemotherapy, anti-nausea drugs and other quality of life medications to underprivileged women who cannot afford the increasing expense of fighting this killer disease. Over the past ten years we've awarded gifts to organizations in Chicago, Washington D.C., Austin, Los Angeles, and New Brunswick, NJ.
Since our inception in 2002, we have worked with hundreds of your favorite bands – everyone from My Chemical Romance to Title Fight to Converge to Man Overboard to American Nightmare. The Shirts For A Cure project was established as part of The Syrentha J. Savio Endowment (SSE) a recognized 501(3)(c) non-profit charity founded by punk rock photographer Mark Beemer as a way to honor his wife who, at the time, had recently passed due to complications of her own battle with breast cancer. As anyone so entrenched in the punk and hardcore community would do, Mark turned to his friends in bands such as The Bouncing Souls, Hot Water Music, and Kid Dynamite to give a voice to this important health and social issue.
In addition to Shirts For A Cure, SSE raises funds through a handful of other programs including a benefit concert series, annual charity dinners and raffles, and breast cancer awareness walks.
--------------------------------------------------
This cruise is aboard the CIRCLE LINE MANHATTAN and will depart from the Circle Line Pier (Pier 83) at 42nd Street and The West Side Highway.
We will be boarding and departing at the times listed on your ticket and are not able to allow refunds if you miss the boat. So, dont be late - it sure ain't pretty to be standin' on the dock, watching the party sailing away!
There are cash bars on board so make sure to swing by the ATM on your way to the boat. All cruises are 3 hours long unless otherwise noted. If you have any questions about the show or your purchase, please contact Sancho Dominguez at sancho@rocksoff.com or check out our FAQ page on www.rockoff.com
Departs From:
Circle Line Pier 83 - W. 42nd Street and West Side Hwy.


Processing your request, please wait....