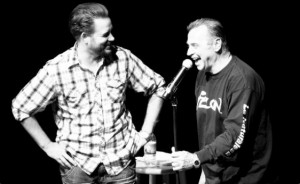 StaticDog Entertainment
We Are Not Saints Recovery Comedy Show


with

Ian Harvie & Felon O'Reilly

Friday, May 03, 2013 7:30 PM EDT
Arcade Comedy Theater, Pittsburgh, PA

Purchase Tickets
Ticketweb sales have ended for this event, however tickets are still available. Please visit ShowClix or contact(415)3COMEDY to purchase a ticket to this event. Thank you!
Additional Information
StaticDog Entertainment presents We Are Not Saints Comedy Show featuring Ian Harvie & Felon O'Reilly at the Arcade Comedy Theater!

A traveling, recovery-based, standup comedy show.
An unlikely group of friends and Comics: recovering addict and former career criminal Felon O'Reilly and recovering alcoholic, transgender funnyman, Ian Harvie; share their experience, strength and hope; performing on the road.
IAN HARVIE was born a girl and is now a man, though you could never tell. To hear him recount the stories of his life trapped inside a body he was at serious odds with and the long tumultuous voyage to change it, is eye opening to say the least. His honesty and vulnerability are breathtaking but he doesn't stop there, he's also hilarious. Comic icon Margaret Cho has not only raved about Ian, she featured him in her smash show "The Sensuous Woman" and toured the world with him and now he's a comedic force to be reckoned with. As far as we know, he is the only "F to M" transgender Comic on the planet; needless to say his voice is unique. His television appearances include "One Night of Stand Up" the "Outlaugh Comedy Festival on Wisecrack" on the Logo Network, and "Comics Unleashed" on ABC.
FELON O'REILLY'S record is impressive to say the least. 73 arrests, 7 incarcerations, 17 rehabs and more than a decade behind bars, Felon is now clean and sober, a Motivational Speaker, Standup Comic and an Author. His book "Laughing on the Inside: The Life and Crimes of Felon O' Reilly" is a staple in treatment centers and prison libraries. He's currently writing his second book, "Lasting on the Outside". He has performed in prisons, high schools, juvenile facilities, conventions and comedy clubs across the nation. Hearing him recount the time when his mother called while he was in the middle of robbing a bank is not only funny but also ridiculous beyond belief. He is the epitome of the saying "Time plus tragedy equals comedy!" You will never hear another comedy act quite like his!
Questions, concerns and interviews should be directed to StaticDog Entertainment by calling (800) 387-2149 or via email at contact@staticdogentertainment.com.


Processing your request, please wait....