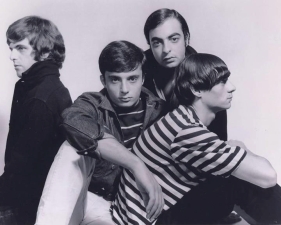 The Bell House
The Remains

/

The A-Bones

Friday, Jun 07, 2013 9:00 PM EDT (8:00 PM Doors)
The Bell House, Brooklyn, NY
21 years and over
Purchase Tickets
Tickets are no longer available here. Visit www.thebellhouseny.com for tickets.
Additional Information
The Remains (legendary Boston garage group)
The line of fans stretching from Kenmore Square to Fenway Park meant only one thing: It was "Remains Night" at The Rathskeller. By New Years Day 1965, The Remains were signed to a major recording deal, playing to packed venues throughout New England. By the end of the 65′ they had two regional hit singles on Epic Records and had performed for 14 million viewers on Ed Sullivan's Christmas Show. In 1966, the group had two more regional hits, appeared on NBC TV's Hulaballoo, and garnered a coveted spot as opening act on The Beatles' U.S. tour. Enthusiastic response to The Remains' performances were echoed by rave reviews in the local and national press. Following The Beatles tour, The Remains' first and only album was released by Epic Records. By then, The Remains had disbanded. Now, over three decades later Barry Tashian, Vern Miller, Bill Briggs and Chip Damiani are back. With the release of their new albums, "The Remains", and "Movin' On," and recent sold out performances in Europe and the U.S., The Remains are once again taking the music scene by storm.
The A-Bones are a garage rock band from Brooklyn, New York. Their name was derived from a song by The Trashmen. The band was formed in 1984 by vocalist Billy Miller and his wife, drummer and co-vocalist Miriam Linna in the wake of a prior band collaboration The Zantees. The couple were at the time editors of the rock and roll culture fanzine Kicks and on the threshold of launching Norton Records. Guitarist Bruce Bennett replaced original guitarist Mike Mariconda shortly after the band was formed. Marcus "The Carcass" Natale replaced founding bass player Mike Lewis (a one time member of both the Lyres (band) and Yo La Tengo), prior to recording the A-Bones second E.P. Free Beer For Life in 1988. Tenor sax player Lars Espensen further filled out the group from 1990 until 2010.
The New York Times described the band solely in terms of its label, calling the group "dedicated rock revivalists," and noting "The A-Bones include Miriam Linna and Billy Miller, proprietors of Norton Records, which worships rockabilly, 1960s garage and anything having to do with that most cartoonish rock archetype: the juvenile delinquent in a leather jacket." In its overview of the band the Trouser Press' online music guide praised the A-Bones' "new levels of sloppy enthusiasm" and stated that the band's "joyously cruddy sound is built on Linna's simple but effective pounding, Miller's manly grunt, and Bruce Bennett's unexpectedly inventive guitar work." The Village Voice declared that a 2009 A-Bones recording "may be the missing link between Andre Williams and Jay Reatard, if Jay had any groove in his grit."

Processing your request, please wait....