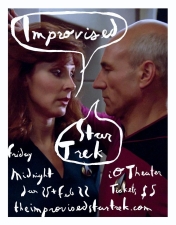 iO Chicago
Improvised Star Trek
Friday, Mar 22, 2013 11:55 PM CDT
iO Theater , Chicago, IL

Purchase Tickets
Contact the iO Box Office at 773-880-0199 for more details.
Additional Information
Improvised Star Trek
The cast of the Improvised Star Trek podcast return for another run of live performances! Beginning as a live show back in 2009, Improvised Star Trek returns to the stage at its original home, iO Theater. Give us a suggestion for a title of a Star Trek episode that has never existed. Then sit back and enjoy hilarious sci-fi comedy and delicious "Romulan" Ale. Wear your Star Trek costume and participate in our costume contest judged and hosted by members of the crew of Improvised Star Trek. With comedy, prizes, guests, and other surprises, it would be illogical to miss Improvised Star Trek LIVE!
Since April of 2011, Improvised Star Trek has taken suggestions submitted on Twitter and Facebook to create fully improvised Star Trek audio podcasts detailing the further adventures of the crew of the U.S.S. Sisyphus, with original characters created by the cast and set in the Next Generation era. New episodes are posted every other week and are available for download on iTunes and at www.theimprovisedstartrek.com right now!
Starring: Griffen Eckstein, Sean Kelley, Irene Marquette, Chris Rathjen, Mary Cait Walthall, Nick Wagner, Matt Young, Julia Weiss
Saturdays @ Midnight in the Del Close Theater - tickets are $5


Processing your request, please wait....