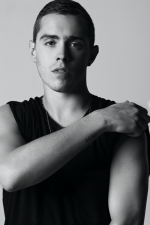 Purchase Tickets
We're sorry, there are no tickets currently available through TicketWeb.
Additional Information
The viral video for Sammy Adams' major-label debut single "Blow Up" is a pretty accurate look at what life is like for this rising young artist. Adams reels off lyrics asking "What's it gotta take for a young kid to blow up?" to a hypnotic head-nodding beat and a recreated sample of the Pixies' "Where Is My Mind" (a nice nod to Adams'Bostonroots). The clip captures the 24-year-old performing for ecstatic crowds everywhere from roof-raising club gigs, to jubilant college shows, to massive outdoor festivals, including Lollapalooza and Bamboozle, where ten thousand people turned up at the Jumbo Stage just to see him.
A boyish-looking, sandy-haired charmer fromCambridge,MA,Adamsfell in love with music as a kid. "My dad played drums in a rock band for 25 years and my mom sang back-up," he says. "They loved music — everything from the Rolling Stones and the Beatles to Led Zeppelin and Canned Heat."Adamsbegan playing piano at age seven and learned to improvise at age 11. "Everything changed for me at that point because it was my type of thing," he says. "I didn't have to read sheet music of someone else's song. I could come up with my own."
Already a fan of hip-hop and rock,Adamsbegan to write rhymes and create beats while in high school, which is when he developed a taste for such progressive techno-trance artists as Tiesto, Armin Van Buuren, and Kaskade. A soccer player throughout his life,Adamswould make warm-up mixes and play them in the locker room to pump himself and his teammates up before games. "That's when I realized I could put together all different types of music — hip-hop, rock, techno, and electronic dance music — and people would get into it," he says. "It inspired me to start experimenting more with vocals and making actual songs."
It was while sitting in class atTrinityCollege(whereAdamswas a political science major and captain of the soccer team) that he came up with the idea for his breakthrough single "I Hate College" — a cheeky remix of Asher's Roth's "I Love College," which he recorded in his dorm room. AfterAdams' friend posted it on his blog in August 2009, the track spread like wildfire among students across the Northeast. Encouraged by the response,Adamsbooked shows at colleges, impressing his peers with his freestyle ability, relatable lyrics, and unbridled energy. "We weren't playing venues, we were doing frat-house basements where the electricity would short-circuit," he recalls.
Adamsbuilt such a sizable following through touring that his independently released album Boston's Boy shot to the top of the iTunes Hip-Hop/Rap chart on its first day out in March 2010, selling nearly 8,000 digital copies that week and outpacing albums by Lil Wayne and DJ Khaled. "We basically marketed the record on Facebook," Adams says. "The buzz from 'I Hate College' really helped. Nearly all of our Facebook fans bought the album on the first day." With its pop-rap sound and lyrics about coming up as an artist in college, Boston's Boy earned kudos from local critics, one of whom noted: "There's no falsity in his songs. He captures campus life with unparalleled specificity."


Processing your request, please wait....