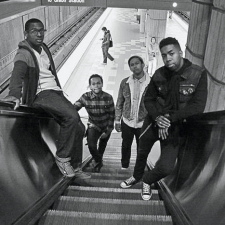 The Roxy Theatre presents
Radiorelics


plus

Free Moral Agents

/

The Fine Lines

/

Vicious FT. The Public Trust

/

Signal Brigade

...

more

►

Friday, Mar 15, 2013 7:00 PM PDT (7:00 PM Doors)
Roxy Theatre, West Hollywood, CA

Purchase Tickets
We're sorry, there are no tickets currently available through TicketWeb.
Additional Information
Radiorelics is a Rock & Roll band founded on "classic hard rock and "gen Y" orgy style rock & roll". The Los Angeles-based rock band is turning a new page in today's rock culture, with a fresh approach meshing classic '70s hard rock with ass cheek naked futuristic elements. Possessing prototypical charisma, style, sex appeal, and talent you will fall in one night stand runway/stripper model lust with the men of Radiorelics.

All born/raised in Los Angeles, each member, now in their early 20s, eventually crossed paths. Malcolm Xavier the band's lead screamer; James "Jr Mafia" Townsend the beast mode/animal kung fu style drummer; Maxx Diaz beats the peta up on the bass, and Bobby Whiten swerves swag on his custom LONG fret board.. with his glasses on. Glasses... not sunglasses so he's cooler.

Assembled like Voltron in 2010, Radiorelics initially used the moniker "MLKM," but later changed the name because it sucked and wanted to represent the mix of dynamics between the energy on their recordings and the potent sometimes explosive raw energy of their live shows. When Malcolm, a pop recording artist and songwriter, met producer Tony Harvey, the idea of forming a rock band was born and left on a metro bus... Nah, LOL, we kept it.

Constitutionalizing Malcolm's dream and Tony's vision, the quest for the rest of the band of studs began. James and Malcolm previously worked a 9to5 together, never realizing the other was into music or Sesame Street characters. James and Maxx had been married in another smash mouth band living the rock star life, with all of the riches life could afford... right. Bobby was a unique find, having less than 2 seconds of guitar experience, met the band through a series of phone calls from a mutual friend (aka hopeful hookup) and became the final element.

The band's varied forays in music- Malcolm's pop R&B, Maxx's pop rock/metal/fusion/jazz roots, James' Rock and Gospel, and Bobby's self-taught guitar magic, all came together under Tony's producing to birth epic recordings - a gritty blend of fresh hard rock, zombie-brain beating drums, city/panty shaking guitar/bass riffs and irritatingly catchy tunes to become a swaddling clothes budda baby nirvana of universal sound.

In early 2012, Radiorelics released the online single "Rock So Hard" - a rendition of JAY-Z & KANYE WEST's "Watch the Throne" anthem. The rock version became an instant viral hit and fan favorite, creating a buzz the band capitalized on and played for packed crowds across super slutty Hollywood venues including Hollywood's famous ROXY Theater & renowned celebrity hook up spot the SUPPERCLUB.

Now with a substantial following, the independent rock band has put the "pedal to the metal" and are taking the insanity to new heights. The results are something truly from another lifetime – records that pass as individual works of art, each with a past-life to tell. With the release of their new original single "Work It Out" Radiorelics have taken the indie scene by storm. Press play and hear the naked truth.


Processing your request, please wait....

Radiorelics
plus
Free Moral Agents
/
The Fine Lines
/
Vicious FT. The Public Trust
/
Signal Brigade
/
Grit
/
Andrew Lawrence