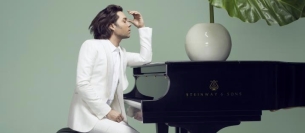 Purchase Tickets
We will Have Limited $30 Standing Room Only Tickets at the door at 730PM
Additional Information
The last few years have been quite a journey for Rufus Wainwright. Creatively, he put pop music aside and concentrated on his other interests, from his Grammy-nominated recreation of Judy Garland's fabled Carnegie Hall concert to the 2009 premiere of his opera, Prima Donna. Wainwright's personal life has been even more dramatic, witnessing the birth of his daughter, Viva; the death of his mother, singer/songwriter Kate McGarrigle; and his engagement to partner Jorn Weisbrodt.

All of these experiences inform his seventh studio album, Out of the Game, along with the input of a new collaborator, celebrated producer Mark Ronson. The results are the loosest, most accessible music of Wainwright's career, retaining his distinctive narrative sense and wry wit while adding classic pop pleasures.

"What I wanted was a warmth and a depth in terms of quality of sound, and a certain clarity that's still easy on the ears," he says. "I've done that whole ponderous, pseudo-genius thing, so it was fun to get in there and work really fast and do something that was more about the songs."



Processing your request, please wait....