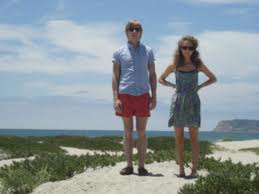 The Bell House
Tennis


plus

La Sera

Thursday, Mar 03, 2011 8:00 PM EST
The Bell House, Brooklyn, NY
18 years and over
Purchase Tickets
Tickets are no longer available here. Visit www.thebellhouseny.com for tickets.
Additional Information
Anyone for Tennis? What if tennis was less about two people whacking a ball around and more to do with C86-loving skinny Americans doing impressions of the Stooges doing impressions of the Supremes and the Shangri Las? Tennis yearn for the pre-rock era of innocent high-school romance, and you get the feeling any fuzz or scree is a consequence of limited funds rather than a matter of principle or aesthetic judgement. More than Vivian Girls, Dum Dum Girls or any of their NYC peers, the melody floods through their songs, drowning out the noise, perhaps because there are only two of them (about which, more in a minute). Their best track, Marathon, is girl-group gorgeous: they make the most of their lack of players, allowing the space between the voice and guitar to evoke isolation and loss. Meanwhile, Alaina Moore's sweetly monotone, self-harmonising ooh-oohs and Patrick Riley's subdued surf jangle build not so much a wall of sound as a rickety piece of corrugated iron by the bike sheds. Baltimore starts off fuzzier, but soon the aching chord sequence emerges from the haze. They've also got tracks called South Carolina and Bimini Bay – are they going to do a Sufjan Stevens and devote their every release to a different place? Apparently, yes. Like the similarly lilting and lovely Summer Camp, Tennis are a couple, a married one at that (monogamy is the new promiscuous abandon), who saved money for years, bought a mini yacht, and sailed around the east coast for eight months – their songs document their marine adventures. Make sure you see them by land at The Bell House on March 3rd! -The Guardian UK


Processing your request, please wait....