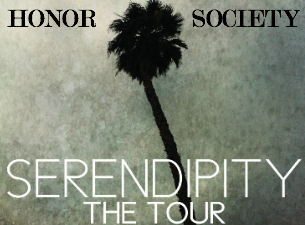 Varsity Theatre
Honor Society
Sunday, Mar 17, 2013 7:00 PM CDT
Varsity Theatre, Baton Rouge, LA
18 years and over
Purchase Tickets
On-line sales for this show have been stopped but tickets are still available at the box office and the doors. We hope to see you shortly!
Additional Information
Serendipity: The Tour // VIP Ticket Package includes the following:
A Ticket to the Show
Early Entrance into the Venue
Mini-Acoustic Performance
Question & Answer with the Band
Picture with the Band
Hang Session with the Band
Signed Tour Program
Early Access to New Tour Mer
It's a few hours before doors open at Irving Plaza in New York City. A line wraps around the city block. A site that draws the investigative eyes of even the most veteran New Yorkers. The marquee reads: HONOR SOCIETY. The name seems familiar, yet enigmatic, and while both Rolling Stone and MTV have already weighed-in to validate the rock outfit, the band is still not yet the household name they are destined to become.
Honor Society's highly anticipated new EP, Serendipity, only further points towards this inevitability. Serendipity is clearly an evolutionary step forward, showcasing the band's most personal material to date and cracked the Top 10 on the iTunes Rock charts as an independent release (Fair Isle/Go Entertainment) in its first week. At the helm of the latest offering, is multi-Grammy award winning producer Mike Mangini, who has lauded this effort as, "a mature rock sound... ready for the masses".
The first single "Serendipity" is set to head to radio this fall while the band resumes touring on the west coast before heading home to NYC to celebrate the release of the EP.
Fueled by a mutual interest in the pop music of the 80's, Honor Society began when singer/guitarist Michael Bruno reconnected with his high school friend, keyboardist/guitarist Jason Rosen, after graduating NYU. The two immersed themselves into the project, placing a premium on song writing and musicianship. The additions of bassist, Andrew Lee Schmidt, and drummer, Alexander Noyes, only reinforced their vision and the band quickly garnered attention - landing them a deal with Hollywood Records.
Their major label debut, Fashionably Late, exploded to #18 on the Billboard Top 200 and the music world took note. Rolling Stone named them a breakout band. MTV Buzzworthy dubbed the band "One to Watch". The buzz was palpable and Honor Society spent the remainder of that year and the next on tour with the likes of Timbaland, Jonas Brothers, Jordin Sparks, The Fray and Neon Trees.
he house lights start to dim at Irving Plaza and the anticipation begins to boil over. The crowd comes to life, erupting into a deafening roar - Honor Society is about to take the stage. "This is what we live for," says Jason, "this rush of adrenaline and the personal experience of a concert... we won't stop until everyone experiences it".
Honor Society is the music industry's best kept secret, but don't expect it to remain that way. The secret is getting out.


Processing your request, please wait....