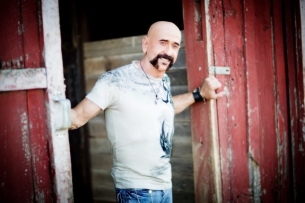 3rd and Lindsley
Jimbeau Hinson
Tuesday, Jan 29, 2013 6:00 PM CST (5:30 PM Doors)
3rd and Lindsley, Nashville, TN

Purchase Tickets
We're sorry, there are no tickets currently available through TicketWeb, only at venue
Additional Information
Free show!
So much more than simply the culmination of his lifelong musical dreams, Strong Medicine, singer/songwriter Jimbeau Hinson's highly anticipated debut on Wrinkled Records, is the poignant, heartfelt and inspirational story of his life.
Showcasing the veteran country hitmaker's edgy yet intimate vocals, hard-hitting, poetic lyrics, and pop, rock, folk and blues influences, the multi-faceted 11-track collection features songs that run the gamut of emotions -- resolve in the face of life's toughest challenges, forgiveness, love, emotional and physical survival, the importance of monogamy, and fortitude. Hinson began penning these pieces as part of his emotional therapy, but over the course of several decades, the project has blossomed into a deeply felt universal expression of hope.
Happily married to his wife Brenda for 33 years, Hinson -- renowned for writing hits for Brenda Lee, Patti Loveless, Steve Earle and the Oak Ridge Boys -- is unabashed about sharing the realities of a formerly open bisexual existence which resulted in his being diagnosed as HIV positive. It was a truth kept painfully secret for personal and professional reasons for many years.
In line with the concept of "Stones," which chronicles the passage of time via life's key moments, many of the album's tunes emerged from important milestones along his journey. Hinson wrote "Not You Again" after he found out he was HIV-positive; the song thinly compares the virus to a bad relationship that kept showing up on his doorstep. The Motown inspired ballad "Distant Vision" finds him pondering the larger, eternal picture while witnessing the wasting away of the first of his many dear friends. Perhaps the most hopeful song is the gospel flavored "Now," a plea to live in the moment and enjoy the time we have.
"As grand as it sounds, I want this album to be the soundtrack of my life, and the book I am currently working on will fill in the rest of the story," he says. "I'm just grateful I'm here to do it. All I want to do is more of this – live, love, write, sing, cook, eat, all of it. Be a friend indeed to those not yet befriending me, and through it all be forgiving to myself as well as to others. I want people to hear and see themselves in my music…to know they are not alone…that we are all in this together."


Processing your request, please wait....