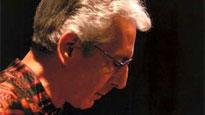 Iridium Jazz Club
Pat Martino
Monday, Feb 04, 2013 10:00 PM EST
Iridium, New York, NY

Purchase Tickets
We're sorry but this show is Sold Out! Please browse our other show listings to catch a performance.
Additional Information
PAT MARTINO
Martino moved to Harlem to immerse himself in the "soul jazz" played by Willis "Gatortail" Jackson and others. He previously had "heard all of the so called "white" jazz. "I'd never heard that part of our culture," he remembers, until the Montgomery Brothers. The organ trio concept had a profound influence on Martino's rhythmic and harmonic approach. and he remained in that idiom as a sideman, gigging with Jack McDuff and Don Patterson. An icon before his eighteenth birthday, Pat was signed as a leader for Prestige Records when he was twenty. His seminal albums from this period include classics like Strings!, Desperado, El Hombre and Baiyina (The Clear Evidence), one of jazz's first successful ventures into psychedelia.
In 1976, while performing internationally with his fusion group "Joyous Lake" Martino began experiencing seizures, which were eventually diagnosed as AVM, a condition he was born with. After surgery and recovery, he resumed his career when he appeared in 1987 in New York, a gig that was released on a CD with an appropriate name, The Return. He then took another hiatus when both of his parents became ill, and he didn't record again until 1994, (after their death) when he recorded Interchange a nd then The Maker.
Today, Martino lives in Philadelphia again and continues to grow as a musician. As the New York Times noted, "Mr. Martino is back and he is plotting new musical direc tions, adding more layers to his myth." His experiments with guitar synthesizers, (begun during his rehabilitation) are taking him in the direction of orchestral arra ngements and they promise groundbreaking possibilities. Musicians flock to his door for lessons, and he offers not only the benefits of his musical knowledge, but als o the philosophical insights of a man who has faced and overcome enormous obstacles. "The guitar is of no great importance to me," he muses. "The people it brings to me are what matter. They are what I'm extremely grateful for, because they are alive. The guitar is just an apparatus."


Processing your request, please wait....