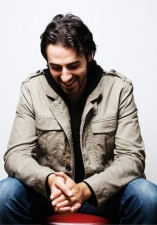 Union Hall
Ari Hest
Thursday, Mar 14, 2013 8:00 PM EDT
Union Hall, Brooklyn, NY
21 years and over
Purchase Tickets
Advance ticket sales have ended. Tickets will be available at the door.
Additional Information
After releasing The Break-In on Columbia Records in 2007, Ari decided it was time to take more creative control over his music and parted ways with his label.
Utilizing all the technology available to him, in 2008 he launched his highly successful 52 project, a web based subscription service that found him writing, recording, and releasing a new song every Monday for an entire year. Performing Songwriter called these songs "high-caliber and heartfelt." At the end of the year, the subscribers were asked to vote for their 12 favorite songs from the project and the ones that got the most votes were then reworked and digitally released in the form of the album Twelve Mondays in early 2009. The Washington Post wrote "An urbane folk-rocker with a sonorous baritone, Ari Hest sounds like a man out of time" and said Twelve Mondays was "skillful, pretty and straightforward."

52 helped Ari explore different genres and experiment with new instrumentation. And even with 40 unreleased songs under his belt after the release of Twelve Mondays, Ari kept on writing and experimenting. The end result, Sunset Over Hope Street, is a slight departure from his previous work. Ari expressed his self-challenging nature by taking his guitar parts and seeing if another lead instrument, like a piano, could take the guitar's place. The album is also awash with a variety of string arrangements and unique percussion parts.

Unlike previous albums, Sunset Over Hope Street was created over a protracted period of time - more than a year. Because of this, Ari was really able to take time, listen back and edit – a luxury that on previous albums had not been afforded him. There were vocals, drums, guitar parts, and even full songs that wound up being scrapped and others added as the album evolved. His patience paid off and the result, despite this different approach, is unmistakably Ari Hest.

Ari has built his career the old fashioned way, doing 150 dates a year for the better part of the last decade. In the past 24 months, he has added Europe into the mix through multiple tours in Ireland, Czech Republic, Germany and Belgium. Film and television has also expanded Ari's fan base. His music has been licensed numerous times to shows such as "Private Practice" and "One Tree Hill", and he scored the film "Dreamriders", which won numerous independent film awards, and also featured several of Ari's songs.

Processing your request, please wait....