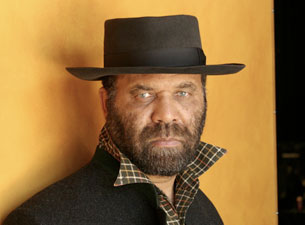 Iridium Jazz Club
Otis Taylor
Sunday, Mar 31, 2013 10:00 PM EDT
Iridium, New York, NY

Purchase Tickets
Pre-sale tickets are no longer available for this event. Tickets will be available at the door, or contact our box office at 212-582-2121 for further information.
Additional Information
OTIS TAYLOR
With Otis Taylor, it's best to expect the unexpected. While his music, an amalgamation of roots styles in their rawest form, discusses heavyweight issues like murder, homelessness, tyranny, and injustice, his personal style is lighthearted. "I'm good at dark, but I'm not a particularly unhappy person," he says. "I'd just like to make enough money to buy a Porsche."
Part of Taylor's appeal is his contrasting character traits. But it is precisely this element of surprise that makes him one of the most compelling artists to emerge in recent years. In fact, Guitar Player magazine writes, "Otis Taylor is arguably the most relevant blues artist of our time." Whether it's his unique instrumentation (he fancies banjo and cello), or it's the sudden sound of a female vocal, or a seemingly upbeat optimistic song takes a turn for the forlorn, what remains consistent is poignant storytelling based in truth and history. On his sixth CD, Double V, Taylor unleashes intimate tales as he produces an aural excursion inspired by an unconventional childhood.
Telarc released Below the Fold, Taylor's seventh CD, in the summer of 2005. The album is a set of stylistically varied songs that point to a blues-based center but are awash with Appalachian country overtones and moody, psychedelic rock. Once again, the critics raved. Downbeat gave the album four stars, noting that Taylor "has a poet's soul, with a deep respect for the history of blacks in America and an unshakable curiosity about the human condition." Paste called him " a country-folk version of spontaneous, talking-blues master John Lee Hooker." The New Yorker dubbed his sound "Velvet Underground Railroad," and went on to proclaim that "he may drone but he never stays still, and when he moves he's always heading toward places you haven't seen." At year's end, Below the Fold landed in the number 12 slot on the Chicago Tribune's Top 20 album list.
And if the brilliant songwriting and the haunting voice weren't enough to turn the heads of audiences and critics alike, Taylor has also proven his instrumental chops with two consecutive Blues Music Awards nominations (2005 and 2006) for Best Instrumentalist in the banjo category.
In addition to traditional touring and recording, Taylor spearheads a Blues in the Schools program called "Writing the Blues." Conceived by his wife, he appears at elementary schools and universities around the country to offer advice, enlighten, and mentor students about the blues. "I start by asking them to write down what makes them sad; fears, disappointments, losses, whatever. It is just amazing to see some of these nuggets, these incredible thoughts. They are often simple sentences but so real, so sad, so true, so pure." For Taylor, it's an opportunity to connect with others and help others to connect with themselves. And, it allows him to do his part in ensuring that the blues, and the ability to share life experiences will continue in the next generation.


Processing your request, please wait....