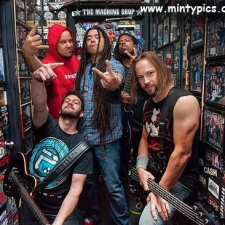 The Roxy Theatre presents
Nonpoint

plus

Candlelight Red


/

Digital Summer

Saturday, Feb 09, 2013 6:30 PM PST (6:30 PM Doors)
Roxy Theatre, West Hollywood, CA

Purchase Tickets
We're sorry, there are no tickets currently available through TicketWeb.
Additional Information
The band continues to deliver unique, uncompromising, and undeniable hard rock on its self-titled ninth studio album and first for Razor & Tie. Weathering lineup changes, label shifts, and other trials and tribulations, founding members Elias Soriano [vocals] and Robb Rivera [drums] regrouped with fresh blood—Dave Lizzio [guitar], Adam Wolosyzn [bass], and Rasheed Thomas [guitar]—and captured pure fire this time around. Now, you might just get burned if you're in their way…

In the spring of 2011, Nonpoint experienced something of a rebirth. After touring heavily behind Miracle, they underwent a creative overhaul with the addition of Lizzio, Wolosyzn, and Thomas. At the same time, Rivera stresses that preserving the outfit's initial integrity proved paramount to songwriting.

"Basically, we wanted to go back to where we came from," he affirms. "Take our first four albums, throw them in a blender, and this is what you get. Elias wrote some of his deepest lyrics and spit rage in the booth. When it came to the guitars, Dave and Rasheed brought in genuine technical talent. It's old school with some new flavors."

Soriano adds, "We wanted this record to be a punch in the face. Dealing with lawyers and losing members, the last year was obviously very difficult. I also had just become a father around the same time. There was a lot of stuff I wanted to artistically vent about."

In order to transfer that energy to tape, they enlisted the talents of Grammy Award-nominated producer Johnny K [Disturbed, Staind, Megadeth] for the first time. They holed up in his Groovemaster Recording Studios in February 2012 and emerged with 12 of the most raw and real songs of their 15-year career. Johnny pushed them to expand their patented sound, while simultaneously sticking to their guns.

"He challenged each of us instrumentally," Rivera elaborates. "He brought out anger and angst that we haven't felt in a long time. We're known as a live act, and he paid attention to that fact. We built this on the road. This record sounds like war coming out of the speakers."

The first single "Left For You" slides from an intense riff into a hypnotic verse punctuated by an infectious chorus. Produced and mixed by Brian Virtue [30 Seconds to Mars, Chevelle] in Nashville, it's immediately explosive. Lyrically, the singer doesn't hold anything back either.

"It's about that moment where being discreet or cordial gets thrown out the window," he reveals. "You realize you're fighting for a relationship—whether it's romantic, business, or social—that you don't really want anymore. You say fuck it and never revisit that friendship again."
Nonpoint opened up the floodgates to the album by unleashing one of its heaviest tracks, "I Said It," as a free download their Facebook page in the summer of 2012. The fans responded with overwhelming enthusiasm, welcoming the onslaught. Showcasing dynamic vocal delivery and a groove-driven stomp, it's perfect for the pit.

Processing your request, please wait....