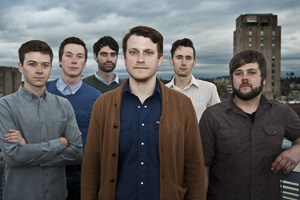 Off Broadway
Hey Marseilles


with

Young Buffalo

Saturday, Apr 06, 2013 9:00 PM CDT (8:30 PM Doors)
Off Broadway, Saint Louis, MO

Purchase Tickets
We're sorry, there are no tickets currently available through TicketWeb.
Similar Events
finding similar events...

Additional Information
This is an all-ages show - Persons under 21 will be asked for an additional $3 cash surcharge upon arrival.
Five miles south of downtown Seattle is the neighborhood of Columbia City—a leafy stretch of old brownstones and new condos which, according to local legend and loosely interpreted census data, boasts the most diverse zip code in America. Not far from Columbia City's main drag, amidst a swirl of languages and colors and food and accents, sits a 100-year-old, two-story house that's home to the world-weary, six-piece orchestral-pop ensemble known as Hey Marseilles. World-weary in spirit if not in practice: Hey Marseilles first won hearts across the US with its 2010 debut, To Travels and Trunks, an album that reveled in the education and inspiration only globe-trotting exploration can provide. With Matt Bishop's lyrical wayfaring abutting an instrumental palette that embraced folk tradition—accordion, strings, and horns; gypsy, Gallic, and classical—To Travels and Trunks gave musical voice to the universal longing for unfettered freedom. NPR called the record "sublime and heartfelt." A lot has changed in the world since 2010—that house in Columbia City, for instance. The vacillations of the economy allowed Hey Marseilles violist Jacob Anderson to acquire it in 2011; he and his younger brother, cellist and producer Sam Anderson, helped renovate it. Since then, most of the band has lived in it, and the entirety of their new album was written and recorded in it, or nearby. (Other recording spaces included a tunnel in Seattle's Golden Gardens Park, a mostly abandoned brick office building, and a church sanctuary, all because of their advantages for the band's acoustic instrumentation.) Not surprisingly, Lines We Trace is not about going out and searching. It's about finding you're already where you need to be.Make your way back home again, Bishop sings on the dusky ballad "Café Lights." I am here still. "These songs articulate a sense of longing, but it's a longing to appreciate what's in front of you as opposed to finding meaning in somewhere or someone else, " says Bishop. "It's about finding and creating home where you're at and as you are." The 12 songs on Lines We Trace represent a band steady enough in its sound—poignant, panoramic, unreservedly gorgeous—that it can expand beyond it. The string section that hums throughout "Elegy"—quintessentially sweeping, Hey Marseilles style—shifts into finely composed abstraction for the song's final minute. Colin Richey's skittering rhythm on "Bright Stars Burning" is a gentle breakbeat, a sly nod to atmospheric drum 'n' bass. "Madrona" and the album-closing "Demian" are Hey Marseilles' first fully instrumental songs, a pair of echo-laden piano-and-cello dirges that are simultaneously solemn and sumptuous. "Dead of Night" trots along on an almost funky, waltzy swing and gives the album its titular lyric, trumpet triumphant as Bishop sings, The lines we trace have a thousand ends/We'll count the ways we can't begin/And stay in our homes, remain on our own…
Learn more about "Hey Marseilles" at http://www.heymarseilles.com/

Processing your request, please wait....