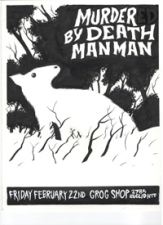 The Grog Shop
Murder By Death

/

Man Man


/

Damion Suomi

Friday, Feb 22, 2013 9:00 PM EST (8:00 PM Doors)
Grog Shop, Cleveland Heights, OH

Purchase Tickets
We're sorry, there are no tickets currently available through TicketWeb.
Additional Information
MURDER BY DEATH: On the surface, Murder By Death is a Bloomington, IN quintet with a wry, ominous name. But behind the geography and moniker is a band of meticulous and literary songwriters matched by a specific brand of brooding, anthem-riding balladry and orchestral indie rock. Since the band began in 2001, their audience has blossomed due in part to extended tours alongside similarly hardworking musical kin such as Against Me!, Gaslight Anthem, Lucero, William Elliott Whitmore, Ha Ha Tonka, and others. Through more than 1,000 performances across the United States, Canada and Europe, Murder By Death has gained word-of-mouth devotees and support from the likes of media outlets like SPIN Magazine, who said of the band, "They brawl like Johnny Cash's cellmates or dreamily swoon like Nick [Cave], stomping saloon floorboards in 4/4 time as grand strings fade into high noon."
What resonates most with supporters is the band's energetic, unique, and altogether consistent sound and conceptualized vision. The personnel and ingredients of the group consist of Sarah Balliet's throaty cello melodies, singer/guitarist Adam Turla's booming baritone vocals and brawny guitar strumming, drummer Dagan Thogerson and bassist Matt Armstrong's locked-down, post-punk rhythm section interplay, and Scott Brackett's (formerly of Okkervil River and Shearwater) multi-instrumentalist bag of tricks (including piano, trumpet, accordion, mandolin, vocals, percussion). The overriding sound is an amalgamation of textures ranging from dark and desolate to upbeat and brightly melodic, all of it landing somewhere under the orchestrated indie rock umbrella.
MAN MAN Man Man keeps on keeping on, filling the blankness with their weird/beautiful, esoteric/heart-rending, profound/hilarious sounds. There is so much lovely commotion to be made, Man Man famously does not break between songs during their live shows, but rather moves, revolving-door fashion, from one song to another, commandeering and discarding any of number of the instruments lying at their feet as the mood strikes and the music dictates.
Comparisons to the usual avant-garde forefathers – Captain Beefheart, Frank Zappa, Tom Waits – persist, but Man Man are decidedly not identity thieving or even overtly referencing these spiritual godfathers in their music, but rather are acting as torchbearers of the unusual, the spontaneous and the plainly fucking funny in an increasingly homogenized world. "I'm just making the songs I know how to write," says Honus. "The one thing I want to clarify is that this is an organic project — who we are, the kind of lives we lived before we met each other, and the lives we have together. [That's] what makes this band and this music what it is. I would say being broke is one of my biggest influences. That and being in and out of relationships. Those are bigger influences than listening to a Beefheart record."


Processing your request, please wait....