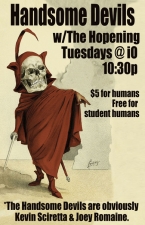 iO Chicago
Handsome Devils

and

Hopening

Tuesday, Dec 11, 2012 10:30 PM CST
iO Theater , Chicago, IL

Purchase Tickets
Contact the iO Box Office at 773-880-0199 for more details.
Additional Information
Handsome Devils
Joey Romaine and Kevin Sciretta got their start on the vaudeville circuit in 1920 as Strongman and The Lizard Wizard. You'll also remember them from their nationally syndicated radio program "The Irish Timmy and Fat Horse Comedy 45 Minutes", which ran from 1932 to 1951. After that you saw them as The Plumbers in the Bing Crosby classic "Who Put All These Sparrows in My Hat?" and as Nico and Finley in the John Ford space-western "Dead Before Morning on Mars". They hope one day to be Marx Brothers.
Starring: Kevin Sciretta, Joey Romaine
Hopening
1 Harold Opening + 2 Hopes + 2 Dreams = Tim Baltz & Brendan Jennings
Everyone has hopes and dreams. Everything is meaningful. Our souls are nothing but gusts of wind….and they are everywhere. Whoooosh….whoooooooosh…..whooooooooooooooosh!
Starring: Tim Baltz, Brendan Jennings
Tuesdays @ 10:30 PM in the Cabaret Theater - tickets are $5 (FREE for iO students)


Processing your request, please wait....