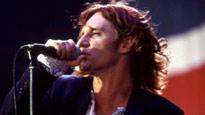 Iridium Jazz Club
John Waite
Sunday, Feb 03, 2013 8:00 PM EST
Iridium, New York, NY

Purchase Tickets
Pre-sale tickets are no longer available for this event. Tickets will be available at the door, or contact our box office at 212-582-2121 for further information.
Additional Information
DOORS OPEN AT 6PM
ALL AGES VENUE
ITALIAN / AMERICAN CUISINE PREPARED BY CHEF RAFAEL VARGAS
$15 FOOD / BEVERAGE MINIMUM
JOHN WAITE with Opening Act Raquel Aurilia
One thing John Waite has come to understand during his illustrious career in music, is that you live and learn best the hard way. Accept that there can be no highs without lows, no gain without loss, and certainly no love without pain. Take nothing for granted, maintain your integrity. Then, at least, you give yourself every chance of going the distance.
"That's basically been my approach over the years," says the British singer/songwriter. "Sticking to my guns, never being afraid to go the hard way – that's the only way I know. It makes success that much sweeter. Bottom line, it's more honest – and, besides, I've never wanted to become a rock 'n' roll caricature."
Without question, this positive, honest outlook and his sense of self-worth in an often fickle, cutthroat industry have been key to John Waite's staying power. Three decades have passed since a restless, wild-eyed teenager from northwest England first packed his bags for London to follow a passion for music. Though he has enjoyed chart-topping records and sellout concerts around the world, John Waite's hunger has never diminished.
"When I took my current band out on the road to play a few gigs this summer, the energy both onstage and from the audiences was fierce," says Waite. "Initially, we thought we'd just go out for a short while before heading into the studio to record a new album. But then I realized that I was having such a phenomenal time playing in front of people that the next record could wait. That's how I am these days. If something feels right, then just do it."
Revitalized and re-energized by his return to live performances, Waite has taken this opportunity to release "The Hard Way" – a terrific new collection of recordings. The song list comprises a delightful selection of tunes old, new, borrowed, and blue. Hit "play" on your CD player or click your iPod and the fun starts straight away with an infectious pop rocker, "The Hard Way." Listening to this opening cut provides an instant flashback to the raw energy of Waite's very first group, The Babys.


Processing your request, please wait....