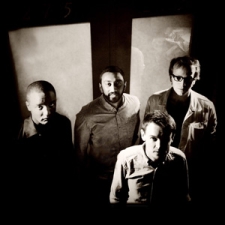 Union Hall
THE OATS

/

AT SEA

/

GIFT HORSE

/

JANE EYRE

Thursday, Nov 29, 2012 8:00 PM EST (7:30 PM Doors)
Union Hall, Brooklyn, NY
21 years and over
Purchase Tickets
Advance ticket sales have ended. Tickets will be available at the door.
Additional Information
Formed in 2010 in Mexico City, The Oats consists of Andres Mora and Armando Vega on vocals/guitar, Alfonso Rodriguez on bass, and Oscar Brena on drums. The band came together through a mutual love of all things Beatles and Pixies and have been inseparable ever since.
Their debut EP, Smokin' Smokings, was released three months after Alfonso picked up a bass for the first time. The EP is full of driving rhythms, Jack Kerouac references, and plenty of grunge and punk rock influences. After Smokin' Smokings, the band ventured into Canada to escape persecution for their English singing ways.
They've since returned to the studio and plan to release their second EP, Funeral=Real Fun, in the coming months. In preparation for the release, they are spending 6 months in New York City, and are thriving in the local music scene - language barriers be damned.
At Sea is a musical collective based in Brooklyn, NY, led by Jason Brody. We make dreamy sounds for dreamers. Listening to the band, you'll hear both the familiar and the unexpected. It's melodic, equal parts moody electronics and big guitars, with lyrics both personal and quietly political. The music conjures up everyone from the likes of Jeff Buckley to Doves to Death Cab for Cutie, without really sounding like any of them.
GIFT HORSE (PICTURED)
Brooklyn based Gift Horse began in late 2010 when Paul Bolinger (lead vocals and guitar) and drummer Andrew Ortner, reunited after having played together in another project. After a revolving door of potentials to fill out the band, Gift Horse became whole with the arrivals of Venu Konda (guitar) and Marshall Perry (bass).
Songwriter Bolinger's tunes are a juxtaposition between a distinct Americana sound, think Wilco, or Pavement, and Brit pop, in the spirit of Crowded House, and The Smiths. Bolinger's vocals possess an earnest and romantic quality that hovers in all his works. Konda's guitars provide a soaring edge that builds to a wonderful crescendos. Ortner and Perry are firmly locked in and provide a foundation that is unfaltering. Break the rule and definitely look this one in the mouth!
From Jesse Rifkin, who you might recognize from his previous band The Wailing Wall, comes a new project called Jane Eyre. Their new song is "Home Alone 2: Lost In New York" and it boasts, according to Rifkin, a sound that combines his "bandmates' collective years spent as conservatory-trained jazz musicians, meltalhead shredders, musical theatre accompanists, italo disco deejays, and ambient drone obsessives."

Processing your request, please wait....