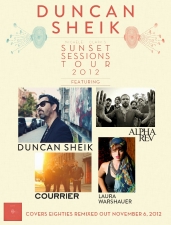 3rd and Lindsley
The Sunset Sessions Tour

with

Duncan Sheik, Alpha Rev, Courrier, and Laura Warshauer

Wednesday, Nov 28, 2012 6:30 PM CST (6:00 PM Doors)
3rd and Lindsley, Nashville, TN

Purchase Tickets
We're sorry, there are no tickets currently available through TicketWeb, only at venue
Additional Information
After breaking through in the late '90s with his Top 20 single "Barely Breathing," Duncan Sheik spent much of the subsequent decade taking a breather from the usual rock singer/songwriter rituals. His focus was on albums that broke with pop music conventions and, additionally, theatrical musicals like Spring Awakening, the Broadway sensation that won him 2 Tony Awards and a Grammy. As he explains this lengthy diversion now: "After a while you get boring to everyone else, but you get really bored with yourself. There was a moment where I was much more interested in these kind of longer narrative arcs, and being able to sing from the perspective of somebody else's persona, as opposed to Duncan Sheik's."


His new album splits the difference. Sheik makes his long-awaited return to singing stand-alone pop songs, but he hasn't given up his recent habit of inhabiting characters. In this case, though, the characters are Morrissey, Robert Smith, Martin Gore, and David Sylvian. Duncan Sheik Covers 80s features twelve of his highly personalized takes on the synth-pop era, including smashes and obscurities from the likes of the Cure, New Order, Tears for Fears, the Smiths, the Psychedelic Furs, the Thompson Twins, Love & Rockets, Howard Jones, Japan, Talk Talk, and the Blue Nile.


"It is nice to sing these songs that are written by other people, because again, you're inhabiting this other character that isn't you, but in this case is part of what made me who I am," Sheik says. "Right now, I'm getting ready to go record a quote-unquote 'regular' album of my own stand-alone songs again, and maybe this is my way of kind of transitioning back into that mode." But it's hardly an impersonal stopgap measure. "The litmus test for me for choosing the songs was: Did I really, really care about it when I was 15 or 16?"


If films like The Wedding Singer and Hot Tub Time Machine have ingrained it into our beings that anything associated with the 1980s must involve a winking nostalgia for kitsch, needless to say, Sheik was coming from a much purer place. "Mine is a much more lachrymose kind of nostalgia," he laughs. "It's almost tragic. At the moment I was listening to that material, it's like when you're going through your first real heartbreak, and all of that angst of just being a teenager. So there was nothing campy to me about it at all. It was all deadly serious, and it was all stuff that I was really moved by in some way."


Processing your request, please wait....