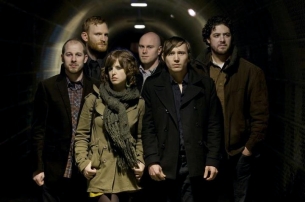 Union Hall
Hurrah A Bolt of Light

/

Bombadil

/

Baby States

Wednesday, Nov 28, 2012 7:30 PM EST
Union Hall, Brooklyn, NY
21 years and over
Purchase Tickets
Advance ticket sales have ended. Tickets will be available at the door.
Additional Information
The Deli Magazine's Best Emerging Rock Band in 2011
"Wil Farr doesn't take long to drown himself in sweat. Spun from the same cloth as Bruce Springsteen or Ian Curtis, he routinely leads his homespun band to a blaze of glory, forcing his restless spirit and barbed hooks through anyone looking for a dose of excitement. Hurrah! builds each track of their heartland-brewed, rocking yet rootsy tunes to a frenzy, making believers of anyone looking for a rush of adrenaline chased down with a shot of big band frenzy."
-The Deli Magazine
"Hurrah! A Bolt of Light! traffic in anthemic and melodramatic material."
-The New Yorker
Bombadil could easily be compared to folk-rock bands such as Blitzen Trapper and The Avett Brothers, but their sound and outlook are decidedly all their own. Truly excelling both rhythmically and lyrically, this band creates songs, such as "The Pony Express" and "Flour Water Sugar", which demonstrate how tension can be shaped with unpredictable rhythms. The squirmiest moments, though, occur when conversation is injected into the music. This is certainly the case on songs such as "Leather Belt" and "A Question", the latter of which reflects the uncomfortable scenario of telling someone you like them. The unknown response/reaction of the song's subject makes the situation that much more uneasy for the listener. There's uncertainty over whether to recoil for Stuart, or be proud of him for wearing his heart on his sleeve.
The first time you listen to All That The Rain Promises, you may not fully enjoy what you hear, but it's purely the result of a band masterfully capitalizing your innate fears of the unpredictable. After a few listens, once you know what to expect, all initial aversion melts away, and the band's profound musical talent shines through. - The Wild Honey Pie
Baby States is New Old Time.
Baby States is Pre-Modern.
Baby States is West African guitar riffs, Uncle Dave Macon, and Nirvana.

Processing your request, please wait....