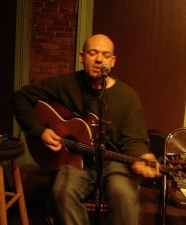 Mayne Stage Presents
danny flanigan + the rain chorus
Friday, Oct 05, 2012 7:00 PM CDT
Mayne Stage, Chicago, IL
18 years and over
Purchase Tickets
We're sorry, there are no tickets currently available through TicketWeb.
Additional Information
danny on danny:
i was inspired by my older brothers (3 of the 5 played and the other 2 sang) to take up the guitar from an early age (9)
they were - after all - my older brothers and i wanted to be cool like them
soon in it became my identity - it was a way for me to be me - some kids were really smart - some were great at sports - i played the guitar - moreover, i set myself apart from my brothers by playing the songs of my generation (and theirs too) i fed my identity and learned to contribute and entertain: my family, my classmates, any gathering of friends...
one brother (john) in particular was big on writing and creating - not just playing and emulating - he would ask me "what have you got?" - as in me - what have i got that is mine - that is original - and i took that question in a healthy way - "well, i thought, what do i have?" "what can i come up with - now that the question has been presented"
later on - at berklee college of music - one of my 2 roommates was a musician from connecticut that had written several songs and he would perform them - guitar/vocal in our dorm room - the impact of that cannot be overstated - it was equal part great songs + the power of hearing a great song in an intimate setting
literally every song he (rob mathes) had was excellent - but instantly i was reminded of my earliest influences: my brothers, john denver, neil diamond, paul simon
and it burned in me like you can't believe
the idea of expressing feelings through song - in a stripped down guitar/vocal format - in an intimate setting
WHAT A WAY TO CONNECT WITH PEOPLE AND TO SHARE IN THE HUMAN EXPERIENCE - EXPRESSION THROUGH SONG!
i write songs to connect with people: i'm happy about this - you're happy about that – let us make a joyful noise…
or
i'm sad about this - you're down about that - hey, i know - i'll write a song that makes fun of it all...let's sing and laugh and heal and grow about it all - together
yeah – that's what i'm trying to d0
d


Processing your request, please wait....