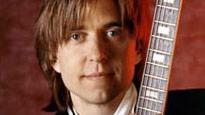 JBM Promotions & WNKU Radio
Eric Johnson
Monday, Oct 01, 2012 8:00 PM EDT (7:30 PM Doors)
The 20th Century Theater, Cincinnati, OH

Purchase Tickets
Tickets are no longer available online, but may be available at the door.
Additional Information
Eric Johnson's stature as one of the premier guitar players in contemporary music is his artistic trump card, backed by a Grammy Award and five nominations, platinum album, Top 10 hits like "Cliffs Of Dover," praise from critics and the esteem of his peers. But the full hand of his talents marks him as well as a gifted songwriter, dynamic live performer, singer, pianist, song interpreter, and creator of a rich and diverse musical legacy.
His many achievements include being enshrined in Guitar Player's Gallery of Greats and named one of the 100 Greatest Guitarists of the 20th Century by Musician magazine alongside numerous other awards. He also enjoys the admiration of many of his fellow players and has performed and/or recorded with such notables as Chet Atkins, Steve Vai, Joe Satriani and others, and follows the release of Up Close with an acoustic Guitar Masters tour sharing the stage with six-string masters Peppino D'Agostino and Andy McKee. He was tapped by Eric Clapton to appear at the 2004 Crossroads Guitar Festival and plays his second stint of the Experience Hendrix tour in fall 2010. He has paid homage in song to such players as Jerry Reed ("Tribute to Jerry Reed" on his album Bloom), fellow Texan Stevie Ray Vaughan (the Grammy-nominated track "SRV") and Wes Montgomery (who Johnson saluted in his Ah Via Musicom song "East Wes"), and boasts both a signature Fender Stratocaster electric and Martin MC-40 acoustic guitar. "Cliffs of Dover" is featured in the video game Guitar Hero III: Legends of Rock as the final winning challenge. And in addition to his recordings, tours and DVDs under his own name, Johnson also plays with his side project Alien Love Child, which released an in concert album in 2000, Live and Beyond, that earned an instrumental Grammy nomination for the song "Rain."
Johnson's success over the last 20 years was presaged by a grassroots rise in which he made his bones and burgeoning reputation as a formidable musical talent and player since he first became a local sensation in the Austin clubs as a teen with the psychedelic rock band Mariani. Trained on classical piano as a youth, he switched to the guitar after the stateside arrival of the Beatles in 1964. As a young player he delved deeply into blues, jazz, country and other styles that inform his music. By the mid-1970s, Johnson began touring and sparking a buzz about his astonishing talents in the jazz-rock outfit Electromagnets, whose recordings and a live TV performance from that era were released in the 1990s to critical acclaim. He cut his teeth in the studio on sessions for Cat Stevens, Christopher Cross and Carole King, and by 1984 his stature in Texas and beyond was so strong that the unsigned artist was tapped to make his first appearance on the prestigious PBS concert show "Austin City Limits." At the urging of such stars as Cross and Prince, Johnson was signed to a major label deal with Reprise Records and emerged onto the international recording scene.
.


Processing your request, please wait....