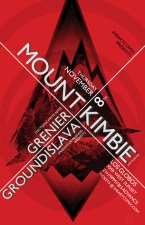 IHEARTCOMIX Events
Mount Kimbie


plus

Grenier

/

Groundislava

Thursday, Nov 08, 2012 9:00 PM PST (9:00 PM Doors)
- Friday, Nov 09, 2012 2:00 AM PST
Icon, Los Angeles, CA
21 years and over
Purchase Tickets
We're sorry, there are no tickets currently available through TicketWeb.
Additional Information
THURSDAY, NOVEMBER 8TH
IHEARTCOMIX PRESENTS:
MOUNT KIMBIE
http://www.mountkimbie.com/
ICON
1248 South Figueroa Street Los Angeles, CA
21+ // 9PM // $15 ADVANCE
Who – or what – is Mount Kimbie, really? "That's a hard question," muses Dom Maker. "The hardest. It's…" "It's hard to say," chimes in Kai Campos. "It's an unspoken thing."
Unspoken, or barely even there at all? The duo's first two EPs – Maybes and Sketch On Glass, both out in 2009 through Hotflush – seemed like explorations of spaces so private that all within earshot were turned instantly into voyeurs. The experience was less like listening to music and more like eavesdropping on the machinations of a lone mind – albeit a lone mind surrounded by and retreating from millions of other minds.
For these were releases ushered into existence in Elephant and Castle, south London – a place where, as Kai puts it, "you can get a bus to anywhere in the world", but is still, ultimately, "the shittest place you could ever live". You imagine the area doesn't become any more endearing when you're forced to sleep within the walls of an old mental asylum.
"That's where we first met," explains Kai, originally from Cornwall. "South Bank University turned the old asylum into student halls. The ceilings were still ridiculously high to stop patients hanging themselves, and there was a brick wall about an inch from the window so they couldn't leap out.
"It was a cold, joyless, concrete building – the sort of building where you'd drop a pen and the sound would just go on and on in an echo." Echoes are important to Mount Kimbie.
"We were rehearsing at Dom's place in Brighton with James Blake once," Kai explains, referring to their prodigiously talented friend and sometime live collaborator. "We went down to the beach to get drunk. We walked home singing through this 50 metre-long wind tunnel, and there was just this incredible reverb.
"A couple of months later we went back with some mics. It was a freezing evening – people kept coming down and there's us, three weird guys in the middle of nowhere, singing harmonies in a wind tunnel! A lot of what we got that night features on the new album."
Armed with found sound snips and a siege mentality, Kai and Dom set about turning London's ambience into rhythm, its chaos into coherence. Traces of influence remain – the hard-earned spaces of Burial and The Bug vie with the berserk melodrama of Xiu Xiu and Grouper's sad-eyed glow, D'Angelo's pervert soul gets cleansed in the intimacy of Phil Elvrum's Microphones, Angelo Badalamenti's swollen 'Twin Peaks' atmospheres find a cradle in Madlib's lax lope – but what emerges as 'Mount Kimbie' feels so pure in its of vision it's surprising to learn its roots lead back to a trance club at the end of a pier in Bognor Regis.


Processing your request, please wait....