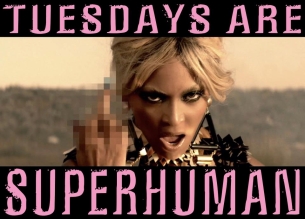 iO Chicago
SuperHuman

and

3Peat

Tuesday, Oct 02, 2012 10:30 PM CDT
iO Theater , Chicago, IL

Purchase Tickets
Contact the iO Box Office at 773-880-0199 for more details.
Additional Information
3Peat
3Peat will have one randomly chosen performer tell an honest story about themselves before inviting you and the rest of the audience to ask questions to dig more into that topic. No question is off limits and the cast has promised to be open books, no matter how embarrassing or incriminating. Then, armed with that information, the cast will improvise a comedic piece using themes and elements that where brought up in the story.
Starring: Nnamdi Ngwe, Brianna Baker, Gary Richardson, Patrick Rowland, John Thibodeaux, Nate Sherman
SUPERHUMAN
Get ready to fall in love.

Super Human is an all-female group that is passionate and excited about creating high-energy show. Look for fun female guests to rotate in...because the more the merrier, strength in numbers and power. SUPER. HUMAN. POWER.
Starring: Sarah Ashley, Blair Beeken, Devin Bockrath, Christina Boucher, Annie Donley, Amber Gerencher, Katie Klein, Irene Marquette, Jo Scott, Mary Cait Walthall
Tuesdays at 10:30 in the Cabaret Theater $5 (FREE for iO Students)


Processing your request, please wait....