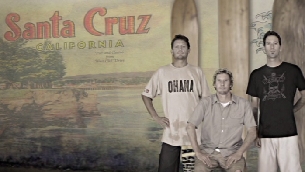 Santa Cruz Film Festival
The Westsiders
Saturday, May 08, 2010 6:30 PM PDT (6:15 PM Doors)
- Saturday, May 08, 2010 8:30 PM PDT
Riverfront Theater, Santa Cruz, CA

Purchase Tickets
This show is sold out - it replays on Monday May 10 at 11:30 am at the Riverfront. Tickets still available.
Additional Information
The Westsiders is the awe-inspiring, eye-popping tale of a special piece of Santa Cruz history: the rise and fall of The Westsiders surf gang as portrayed through the experiences of our own hometown's surfers.

Best friends Darryl "Flea" Virostko, Shawn "Barney" Barron, and Jason "Ratboy" Collins bonded in the icy cold waters of Santa Cruz as kids in the 1980s. Joined by their common tragedies and love of surfing, they supported each other through shattered homes, drug addiction, psychological challenges and hardcore localism. In order to earn their stripes as surfers, they were forced to join The Westsiders, a local surf gang, and go face-to-face with Vince Collier, aka "The Godfather.".

Inspired by seeing their heroes in person at a local surf competition one winter, the trio became convinced that professional stardom was, in fact, a possibility. After 1994's Cold Water Classic, where Ratboy's startling 360-degree aerial move blew everyone's mind, a signal was sent that a new breed of surfers was brewing in Santa Cruz. Magazine covers, sponsors, tours and fame soon followed. They'd done it. They'd reached the peak of professional surfing. However, the pressure of success took its toll and each struggled to cope with their personal demons.

Featuring a combination of stunning archival surf footage, news clips, interviews with family, friends and loved ones, and video Joshua shot himself of the guys as a teenager, The Westsiders is the latest chapter in the bizarre, yet innovative, history of Santa Cruz.

with
Ride a Wave
A Santa Cruz community bands together to give special needs and disadvantaged youth the thrill of catching a wave; for most, it is the experience of a lifetime.

A Beachwork Orange
A boyfriend with a wandering-eye is conditioned by his girlfriend to accept his place and live obediently. Not all ideas have the best results, however.


Processing your request, please wait....