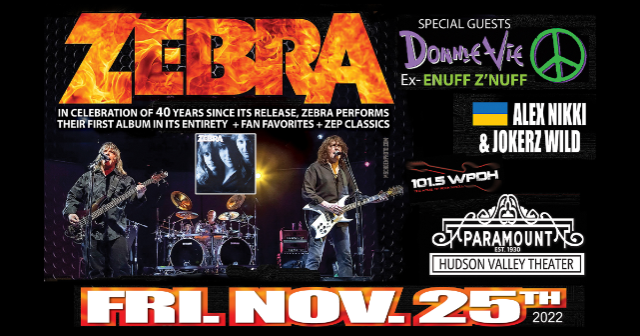 Fri Nov 25 2022
6:30 PM (Doors 6:30 PM)
1008 Brown Street
Peekskill, NY 10566
$43.80 - $109.72
All Ages
General Public Onsale - Fri 9/23 @ 10am

Loaded Concerts Presents:
Zebra,
Donnie Vie (Ex -Enuff Z'Nuff),
Alex Nikki & Jokerz Wild
ZEBRA MEET & GREET (DOES NOT INC SHOW TICKET)

$99 Meet & Greet Add On to any Zebra show ticket!
Fans experience a Meet & Greet with Randy, Felix & Guy. Meet & Greet includes an event poster signed by Zebra,

Zebra T-shirt, 2 signed brought items, A special VIP laminate and photo with Zebra using your camera. Someone will be there to help snap a photo using your camera or phone.

4pm Meet & Greet on day of show.

*Please note this is for the Superfan Meet & Greet ONLY and does NOT include entry to the show.
You will still need to purchase a concert ticket.

ZEBRA came out of New Orleans in early 1975. The trio, consisting of Randy Jackson, Felix Hanemann and Guy Gelso, concocted their moniker from a 1926 Vogue magazine cover and soon won over the South and East Coast. Their mainstream debut on Atlantic Records was in 1983 with their eponymous album, produced by Jack Douglas (John Lennon, Aerosmith, Cheap Trick) and highlighted by the singles "Tell Me What You Want" and "Who's Behind The Door?" Zebra got their start on the US East Coast club circuit, frequently playing at clubs on Long Island. The band started their career by playing covers of Led Zeppelin, The Moody Blues and Rush songs, and it was their early fans' reaction to their Led Zeppelin renditions that helped convince the band to bring their act to New York. They had introduced their original material into their cover sets years before they were signed to Atlantic Records, including "The La La Song," "Free" and "Bears" (originally entitled "The Bears are Hibernating").

Zebra had been noticed by local colleges and even had some of their early original performances recorded by WBAB, culminating in the inclusion of one of their songs on a release of "WBAB Homegrown Album", which commemorated some of the station's best local acts and performances culled from their on-air "Homegrown Hour" program.

The band continued to tour throughout the 1980s, but took a temporary break in the early 1990s. Randy Jackson formed his solo band Randy Jackson's China Rain, and released its only album in the year 1993. Zebra finally reunited in 1997 and released Zebra IV in 2003, their first album of all-new material since 1986. A DVD of live performances, mostly from a show at the House of Blues in New Orleans, was released in the summer of 2007. On July 10, 2010, during their 35th-anniversary performance at New Orleans' Mahalia Jackson Theater, Zebra was inducted into The Louisiana Music Hall of Fame. On October 8, 2012, the band was inducted into the Long Island Music Hall of Fame.

$60 Donnie Vie Meet & Greet Includes event poster signed by Donnie, photo with Donnie using your phone or camera, + 2 signed brought items.

5pm on Day Of Show.


Donnie Vie is one of rock's biggest secrets who has been crafting melodic power pop and rock songs for over 30 years. He and his band were instant critics' darlings with a debut record that soared up the charts generating two long playing MTV hits, a "Top Pick" from Rolling Stone Magazine, and inciting numerous TV and radio performances with repeat invitations from David Letterman and Howard Stern. That band was Enuff Z'Nuff, led by Grammy nominated Donnie Vie's song writing sensibilities and distinctive melodic vocals, they continued on to make some truly great records. Over those years, Donnie has amassed over 25 albums' worth of songs and decades of live shows to his name, both with and without his former band. Now a solo act, Vie continues his song writing and performing under his own name.

Rolling Stone Magazine described Donnie's writing skills as "Beatle-esque pop song craft and ripping hard rock", whereas Billboard Magazine says, "If there is such a thing as false advertising in rock & roll, then Enuff Z'nuff is one of its textbook examples. Packaged in garish peace-glam attire by their record company, the group was wrongly lumped in with the disposable pop-metal bands of the late '80s rather than appreciated for the truly gifted power pop act that they were."

The latest album, Beautiful Things, is still getting the attention it deserves, "As a piece of art it's stunning. This collection of songs is a wonderful addition to the legacy Vie has constructed over the last four decades, but not just that, these are songs we'll remember for years to come. These are songs to keep in your heart and let out when you need to get back from the blue."- The Rock pit.

Donnie's most recent release was his single "All My Favorite Things", released worldwide on June 19, 2020 through ADA/Warner Music Group. Donnie states, "I wrote this in the quarantine/stay at home period of 2020, reflecting back on my life, career, and memories".

As the A-side to All My Favorite Things we have the amazing "Party Time", this song is a party anthem that is bursting with Fun and creativity from the first note till the last.

Amongst many hundreds of song, Donnie feels this is his most marketable song of his career which spans over 30 years, with 25 records collectively. The song bridges genres and age groups.

The video is something very new, exciting and highly entertaining, raising the bar on any of Donnie's videos, including all his videos with Enuff Z'Nuff.

It is a parody storyboard themed extravaganza where he plays a very unconventional Batman accompanied by a cast of characters reminiscent of the 1966 Batman series. The fun packed video also includes the actual Bat mobile.

The Party Time song and video both contain Chip Znuff, which has brought the two together for the first time working together in 8 years.

"It's Party time, let's have a good time"
Loaded Concerts Presents:
Zebra,
Donnie Vie (Ex -Enuff Z'Nuff),
Alex Nikki & Jokerz Wild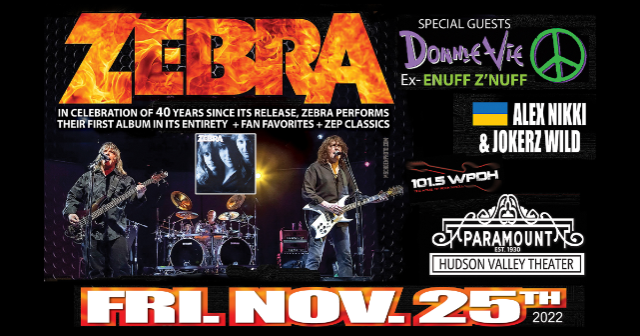 $43.80 - $109.72
All Ages
General Public Onsale - Fri 9/23 @ 10am