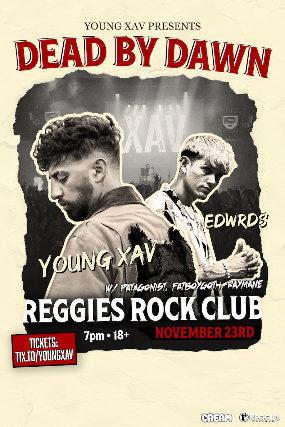 Tue Nov 23 2021
7:00 PM
2109 South State Street
Chicago, IL 60616
$10adv - $15dos
Ages 18+
Reggies Rock Club
7pm doors / 18+ / $10adv - $15dos

YOUNG XAV
EDWRDS
FATBOYGOTH
PATAGONIST
EBONY V



Xavier Robert, known professionally as YOUNG XAV, is an American recording artist and songwriter from Chicago, Illinois. Aiming to be the Great Gatsby of this century's twenties, he's a representative of the modern musical era by date but not by sound. Although he's only been making music for a year, the sound is colossal, the approach - timeless. Having lived in a household with a DJ for a father, musical aptitude is embedded in his DNA. Most people plan their music career but XAV's reeks with serendipity, after one day randomly deciding to reach out to some producer friends, booking a session in Milwaukee, and recording his first song "Summer Love" which would amass thousands of streams upon its first day of release.

The release of his debut album After Dark in February 2019 marked the genesis of what will be one long and fabled career. In the process of creating the album, he released "On The Low" and "Still Alive" as singles. Both records garnered unanticipated traffic in the thousands, a healthy foreshadow of the full-length projects approaching success. With a growing fan base hailing from SoHo to SoCal, it's evident that his sound transcends through cultures, area codes and time zones.

YOUNG XAV's innate ability to cultivate sound and bend frequencies rest perfectly next to his ardent desire to tell his narrative to the world. His music bleeds with intensity, diary-like reflections, wicked lyrical capabilities and fitting production. More than an MC, XAV represents musical creation, inception, diversity, versatility and expansion.

Edwrds is a multitalented artist from Long Island, New York who has been entertaining followers with his dynamic stage performances since a very young age. His music embodies a mixture of Alternative Hip Hop, Pop, and R&B while his lyrics speak about the world through his eyes. Edwrds uses his artistry in hopes to inspire anyone who is afraid to be themselves. He wants to be the voice of strength for those who feel lost, confused, and different. It's okay to NOT be okay! Edwrds continues to captivate listeners by constantly releasing new music and performing shows nationwide, like the 34th Annual 116th Street Festival in Harlem, SXSW in Austin,Texas, and most recently the TNT Pop up Stage at Playlist Live in Orlando and the Mor.MovesTour. Come see Edwrds on "The Boys of Summer Tour" 2021.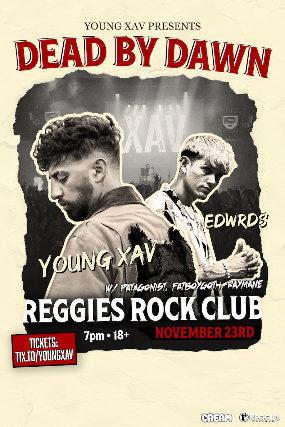 $10adv - $15dos
Ages 18+
Reggies Rock Club
7pm doors / 18+ / $10adv - $15dos

YOUNG XAV
EDWRDS
FATBOYGOTH
PATAGONIST
EBONY V