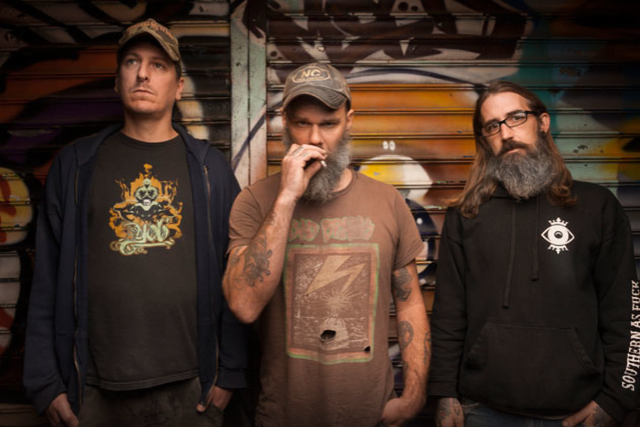 Thu Apr 25 2019
6:00 PM
472 Massachusetts Ave
Cambridge, MA 02139
$25.00
All Ages
The Middle East presents:
Weedeater,
Ufomammut,
Black Cobra,
The Skull,
Kings Destroy,
High Tone Son of a Bitch
Weedeater was born the mid-'90s, in Wilmington, NC, originally taking shape as a side project of vocalist/bassist "Dixie" Dave Collins, who was otherwise engaged with sludge metal cult favorites Buzzov*en at the time. However, upon that band's official demise in 1998, Collins was free to concentrate his efforts on Weedeater, which released two sludgecore albums to kick off the new millennium: 2001's And Justice for Y'All and 2002's Sixteen Tons, both produced by stoner specialist Billy Anderson. Collins later decided to tour briefly as bass player for Bongzilla and also found time to lend his four strings to Wilmington neighbors, Sourvein, but continued to work with Weedeater guitarist Shep and drummer Keko, touring relentlessly over the years, with the likes of C.O.C. and Alabama Thunderpussy. Busy as he was, Collins and co. finally got around to recording their third long-player, God Luck and Good Speed, which was release through Southern Lord in 2007. ~ Eduardo Rivadavia, Rovi

After logging several years of experience with sludge metal icons Cavity and doom prognosticators Acid King, among other bands, New York-based vocalist and guitarist Jason Landrian and L.A.-based drummer Rafael Martinez began working in 2001 on a new project that would ultimately become known as Black Cobra. An eponymous EP eventually saw the light of day in 2004, followed by the full-length Bestial in 2006 and mini-album Feather and Stone in 2007, by which time the duo had developed into a vicious, super-distorted heavy metal machine reminiscent of Mastodon and High on Fire. ~ Eduardo Rivadavia, Rovi

The Skull features original Trouble member vocalist Eric Wagner alongside longtime former Trouble bassist Ron Holzner with guitarist Lothar Keller (Sacred Dawn), drummer Sean Saley (Pentagram) and guitarist Rob Wrong (Witch Mountain)

"The Skull" is made up of a group of very talented members whose main goal is to bring back the unique sound of American Doom Metal band "Trouble" combined with new material which has all the quality and feel of the original sound, plus so much more.
The Middle East presents:
Weedeater,
Ufomammut,
Black Cobra,
The Skull,
Kings Destroy,
High Tone Son of a Bitch